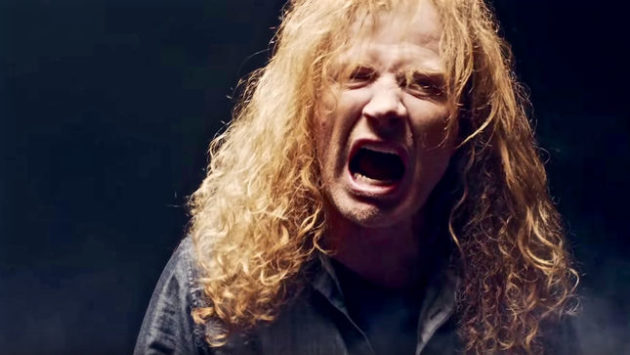 In an interview with Metal Wani's Jessie David, MEGADETH mainman Dave Mustaine spoke about the progress of the songwriting sessions for the band's 16th studio album, tentatively due before the end of the year.

"What we're writing right now is really exciting," Dave said (hear audio below). "Kiko[Loureiro, guitar] and Dirk [Verbeuren, drums] have already come out here [to my home studio in Nashville] to play a little bit, and the stuff that they've done so far, I'm super excited. I can't wait for you to hear it."
Mustaine said that the writing process for MEGADETH's next album is not much different to how the band approached the making of 2016's "Dystopia".
"I've been collecting all the stuff that I've written over my entire career, whether it was written on paper or recorded on anything going as far back as a ghetto blaster," he said. "So we've been carrying all this stuff around forever — ideas — and we just, yesterday, got the very last thing that we've had that I've saved for years and years and years and years, we finished that. And that's kind of how 'Dystopia' was made. We had all these riffs and I just kind of shopped through it and picked out the ones I liked and then wrote stuff to match with it to make everything connect."
Asked how many tracks are going to appear on the upcoming MEGADETH disc, Mustaine said: "Therein lies the rub, because this is our last record for Universal. And the label, the contract with them is for eight songs. The publishing company, the contract with them is for 11 songs. So if I honor the publishing contract, I give them 11 songs. However, the record label, now, because of all of the P2P file transfers and streaming, and blah blah blah blah, they want CDs to contain way more than that. So, the last I heard, the guy [from the record company] wanted, I think it was almost 16 songs. And it's, like, I don't know, man. That's a lot. We gave you 15 on the last record, and it felt to me kind of like a few of those songs just were wasted, 'cause I thought they were really great songs."
According to Mustaine, the response to the new MEGADETH material from those who have heard it has been overwhelmingly positive.
"If it's any indication, our VP from our management was here last week and he heard two working tracks and he said, 'I'm blown away,'" Mustaine said. "So I'm really excited."
The early sessions for the new disc are being co-produced by Chris Rakestraw, who previously worked on "Dystopia", which was described by Record Collector's Joel McIver as a return to form for MEGADETH, and a big improvement over the previous two records.
"When you write a record, it's really interesting," Mustaine said. "It's kind of like making a dish, and if you remember how you did it, you can do it again. If you don't pay attention, you run the risk of not being able to do it again. The last record, I was so focused on what I wanted to do. So, I have a feeling that this is gonna be easily a follow-up to 'Dystopia', and probably a lot heavier."
MEGADETH'slatest album, "Dystopia" opened with 48,000 copies, marking MEGADETH's highest-charting album since 1992's "Countdown To Extinction" debuted and peaked at No. 2 on the chart dated August 1 of that year. "Dystopia" also logs the group's best sales week since 2007, when "United Abominations" landed at No. 8 with first-week sales of 54,000.