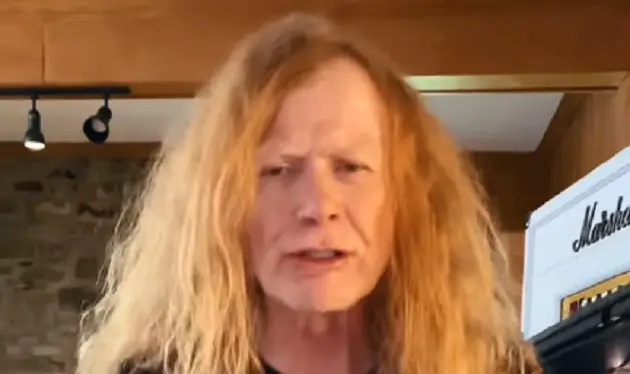 MEGADETH mainman Dave Mustaine has posted another video on social media channels promoting his Cameo page.
Also, at the end of the video, Mustaine plays a riff which is certainly taken from MEGADETH upcoming album.
Check out the video below.
While filming recent video message on Cameo, Dave Mustaine confirmed that the new MEGADETH album will be titled The Sick, The Dying And The Dead.
Dave Mustaine recently confirmed that David Ellefson's long-completed bass tracks on the upcoming MEGADETH album have been removed and re-recorded by another bassist prior to the record's release.
Ellefson laid down his bass tracks on MEGADETH's sixteenth LP in May 2020 at a studio in Nashville, Tennessee.
As previously reported, MEGADETH longtime bassist David Ellefson was fired from the group last month after sexually tinged messages and explicit video footage involving the 56-year-old musician leaked.
During a last month's episode of his Gimme Radio program The Dave Mustaine Show, Dave said about the new bassist: "I just wanna thank you for all the kinds words and support as we get ready for this next tour and continue to hunt for a new bass player. We are making progress. The record's being completed, and we're gonna have someone coming in in a couple of weeks to replace the bass tracks that we had.
"Which should be relatively quick because the person we're talking to is a stellar bass player. And hopefully this will be an ongoing thing after the recording. Or we will find someone prior to the recording that will be our permanent guy going forward."
MEGADETH's "The Metal Tour Of The Year" with LAMB OF GOD is scheduled to kick off on Friday, August 20 in Austin, Texas and hit a further 26 cities before wrapping in Quebec City, Quebec, Canada on Saturday, October 2. Joining them will be special guests TRIVIUM and IN FLAMES, heralding the long-awaited return to the stage for these bands, who are every bit as excited about these historic and not-to-be-missed shows as fans are.
Tickets and dates for the tour are available at this location.