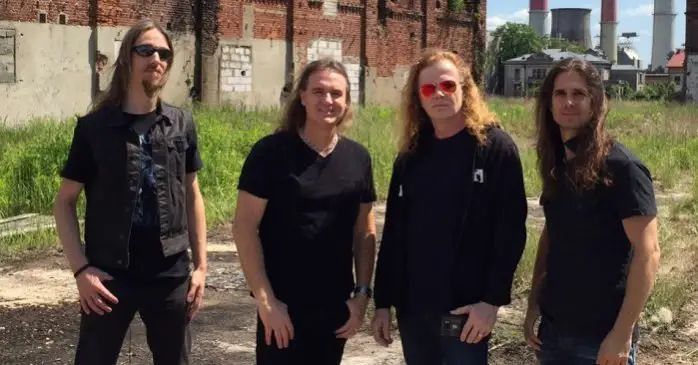 In a recent interview with Eddie Trunk, MEGADETH mainman Dave Mustaine talked about the band's upcoming 16th album, saying that the band's is hoping for a 2019 spring release.
Mustaine said: "We're just assembling all the pieces right now," he said. "Kiko [Loureiro, guitar] and Dirk [Verbeuren, drums] have both been out [to the studio in Nashville] to start recording, and we're now in the process of finalizing all the arrangements. So we're hoping for a spring release next year."
Saying he's "very" happy with Dirk, Dave added: "We posted a little clip of him online and people freaked out over it," Mustaine said. "And that's how I feel. I watch him play and I just laugh. 'Cause when I play live, I'm not looking at him — I'm looking at the audience — so I don't really see. And Kiko said to me [imitates Brazilian accent], 'You're going to find out he's the best drummer MEGADETH ever had.' And I went, 'Okay. I agree.'"
Dave also talked about Loureiro, who was previously best known for his work with the Brazilian melodic metal band ANGRA.
"Well, that's the weird thing, too, where music transcends language barriers, because when we try and talk, sometimes I understand what he's saying, sometimes I don't," Mustaine said. "But when it comes down to the music, I always understand what he's saying."
As for his relationship with longtime MEGADETH bassist David Ellefson, who left the band in 2002 before returning eight years later, Mustaine said: "Yeah, it's great. I love Dave. We've been partners for a long time. He's pastor, too. Did you guys know that? The only pastor I know that says the 'F' word. I catch crap for being a Christian all the time. And I'm thinking, 'He's the pastor, man. I'm just a guy that sits in the seats.'"
Mustaine remains philosophical about MEGADETH's numerous lineup changes over the years, saying: "Everybody had their contribution to MEGADETH. A lot of people showed us good things to do; some of them showed us bad things to do. And I don't look at anybody that's been with us and regret having them with us. The way that some of us parted ways and how we treat one another nowadays is kind of unfortunate, 'cause we don't get to spend a lot of time together. I think when you have breakups, people just kind of have an unnecessary wall that's there. 'Cause I'm grateful for everything that they've done. But sometimes breakups are hard."