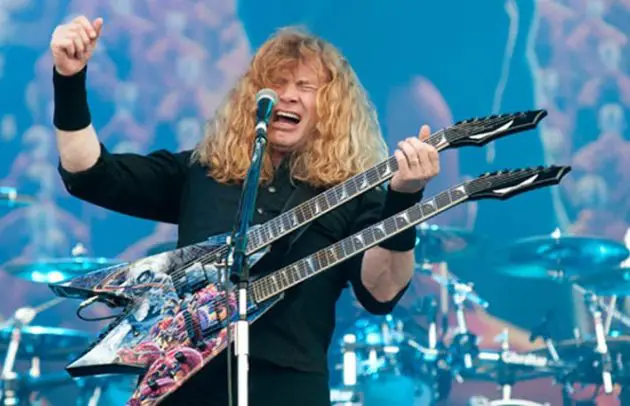 In his new Tweet, MEGADETH mainman Dave Mustaine ranks all band's guitarists from best to worst.
Check out the list below:
8. Jeff Young (1987–1989, performed on So Far, So Good… So What!)
7. Chris Broderick (2008–2014, performed on all band's releases from Endgame to Super Collider)
6. Mike Albert (Was in the band as touring member temporarily replacing Chris Poland on 1985 tour. No studio performances.)
5.  Al Pitrelli (2000–2002, performed on The World Needs a Hero)
4. Chris Poland (1984–85, 1985–87, 2004, performed on Killing Is My Business… and Business Is Good!, Peace Sells… but Who's Buying?,  The System Has Failed)
3. Glen Drover (2004–2008, performed on United Abominations)
2. Marty Friedman (1990–2000, performed on all band's releases from Rust in Peace to Risk)
1. Kiko Loureiro (in the band since 2015, performed on Dystopia)
MEGADETH's latest album, "Dystopia" opened with 48,000 copies, marking MEGADETH's highest-charting album since 1992's "Countdown To Extinction" debuted and peaked at No. 2 on the chart dated August 1 of that year. "Dystopia" also logs the group's best sales week since 2007, when "United Abominations" landed at No. 8 with first-week sales of 54,000.
My favorite guitarists in order: Kiko, Marty, Glen, Chris P., Al, Mike Albert, Chris B., and lastly Jeff. New stuff will start soon…? https://t.co/UomZmKzTqU

— Dave Mustaine (@DaveMustaine) April 28, 2017