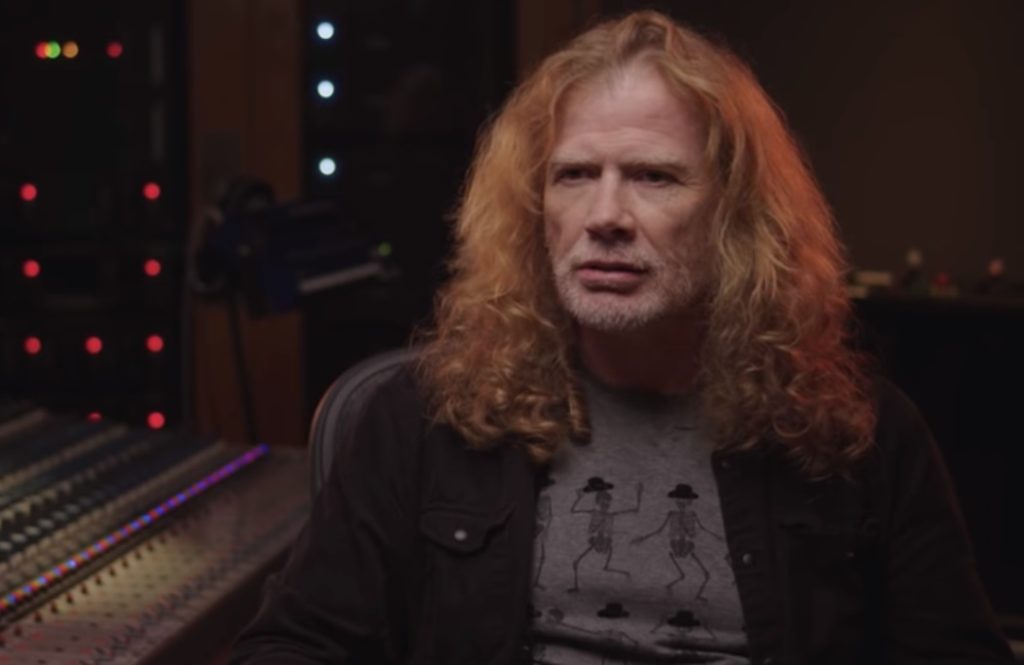 During an appearance on the Ethan and Lou Morning Show, Dave Mustaine was asked to single out his favorite MEGADETH album cover.
He replied:
"At the moment, it has to be [Megadeth's latest greatest-hits compilation] 'Warheads on Foreheads,' because that's probably one of the coolest covers we've had in a really long time.

"I was looking at the cover the other day and I was just laughing – because the audacity of [mascot] Vic [Rattlehead] sitting on the front of a fighter jet riding it like it's some bull. [Laughs] Man, my imagination sometimes…

"I think, 'Where did I come up with this stuff?' I think that a lot, too, when I listen to some of the early records, like, 'Where did you come up with this guitar part?' Because some of the stuff is just so inspired.

"And I think it was the association I had, being around such great players like Chris [Poland] and Gar [Samuelson] and Jeff [Young] and Chuck [Behler] and Marty [Friedman] and Nick [Menza]. That was our formidable years.

"Those guys were all really wild personalities on top of being great players, so a lot of that stuff, I think, just kind of came out of the competitive juices that were always flowing within Megadeth and with all the other bands that were around us. So it was a really cool time back in the day."
In a recent interview with Metal Wani's Jessie David, Dave Mustaine spoke about the progress of the songwriting sessions for the band's 16th studio album, tentatively due before the end of the year.
"What we're writing right now is really exciting," Dave said (hear audio below). "Kiko[Loureiro, guitar] and Dirk [Verbeuren, drums] have already come out here [to my home studio in Nashville] to play a little bit, and the stuff that they've done so far, I'm super excited. I can't wait for you to hear it."
Mustaine said that the writing process for MEGADETH's next album is not much different to how the band approached the making of 2016's Dystopia.
"I've been collecting all the stuff that I've written over my entire career, whether it was written on paper or recorded on anything going as far back as a ghetto blaster," he said. "So we've been carrying all this stuff around forever — ideas — and we just, yesterday, got the very last thing that we've had that I've saved for years and years and years and years, we finished that. And that's kind of how Dystopia' was made. We had all these riffs and I just kind of shopped through it and picked out the ones I liked and then wrote stuff to match with it to make everything connect."