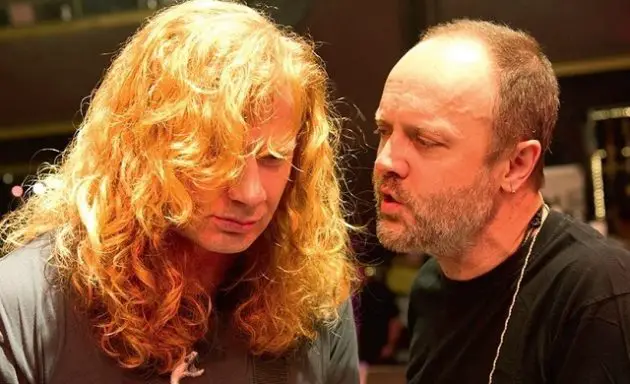 In the recently released HBO documentary "Woodstock 99: Peace, Love, And Rage," there is a segment in which MEGADETH mainman Dave Mustaine talked about rise of the pioneering music file-sharing service Napster.
Speaking about METALLICA drummer Lars Ulrich who launched a legal action against Napster in 2000, Mustaine said: "For me, see, I remember back when I was in METALLICA that we used to trade tapes. That's how we even discovered bands. I don't know. I can't blame Lars for doing the things that he does. Who knows why a guy does that? I mean, does he have enough money? Probably, right?"
Apparently sensing that his words would create a stir, he then addressed the interviewer directly, saying: "My brain is going, 'Don't say it, Dave. Don't say it, Dave. Don't say it, Dave.' And you're going, 'Say it, Dave. Say it, Dave. Say it, Dave.' [Laughs]"
Mustaine said back in 2012 about Napster: "Myself, I think the dude who created Napster probably ruined hundreds of thousands of people's lives because of that peer-to-peer file transferring, but if he hadn't done it, there are plenty of smart people out there who would have. It's human nature."
METALLICA sued Napster after the band discovered that a leaked demo version of its song "I Disappear" was circulating on the pioneering music file-sharing service before it was released.