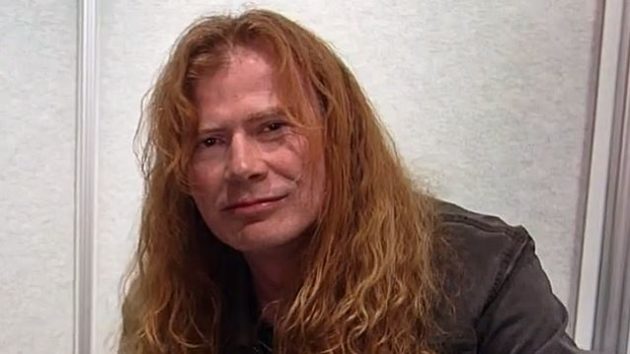 MEGADETH mainman Dave Mustaine was recently interviewed by Meltdown of the Detroit, Michigan radio station WRIF.
Asked when fans can expect to hear MEGADETH's follow-up to 2016's "Dystopia" album, Mustaine said: "We did start talking about scheduling the next record last night. We're looking at November, December of this year, starting to get back together to find a place to start demoing up songs. And, of course, we have so many songs archived. It's not really a matter of having to go in there and beat your head in trying to come up with stuff; it's listening to the two hundred ideas that are there and picking some stuff out of there and seeing what it inspired. Because, much like with my friends in STONE TEMPLE PILOTS, Robert [DeLeo], the bass player, there was a story where he said that his gift was the connecting parts; everybody would write really good stuff and he would connect them. And I think that's what's really vital with a good song — you have to have somebody who's knowledgeable to connect the dots."
According to Mustaine, he has always come up with a surplus of ideas with a view towards one day revisiting them for possible use in MEGADETH songs. "Since the very, very first record, we had so many riffs that we were putting together," he said. "I had songs when I went in to do the first record that ended up on the third record. 'Set The World Afire', 'Rust In Peace', 'Hangar 18', those songs… those were already written; I did those in PANIC [Mustaine's first band], before METALLICA."
Mustaine added that some of his unused riffs "could be thirty-five years old, could be stuff back like… a la 'Metal Militia', 'Phantom Lord'… you know, the early stuff I did. 'Rust in Peace… Polaris'… those were all from the same generation of my songwriting back then. 'Set The World Afire' — that was part of that whole era too.
"For me, it's not like I have to go, 'Oh my God! I lost the mojo. What am I gonna do?'" he continued. "I just have to hear it again. 'Cause I have this really innate ability to kind of transcend where I'm at. Mentally, when I'm playing music, I can kind of go to a place where I can just absorb what I'm hearing, and it just takes me away to a really great, heavy, thrash place. It's a really neat thing."
Asked whether Kiko Lourero and David Ellefson will contribute ideas to the next MEGADETH album, he replied "Yeah, everybody does — everybody has great ideas. The problem is there's so many great ideas. So, for me, I learned a long time ago, instead of putting our friendship on the line and cause any problems between them and myself that when they submit songs and stuff, they just submit it to management and the label, and then, you know, if they like it… 'Cause, see, it would suck — wouldn't it? — if they had a great song and I heard it and I was busy during the day or I had something going on that was some kind of hectic bulls**t and they played this great song for me and I didn't hear it and it was gone forever. That would suck, wouldn't it?"
Listen to the entire interview below.