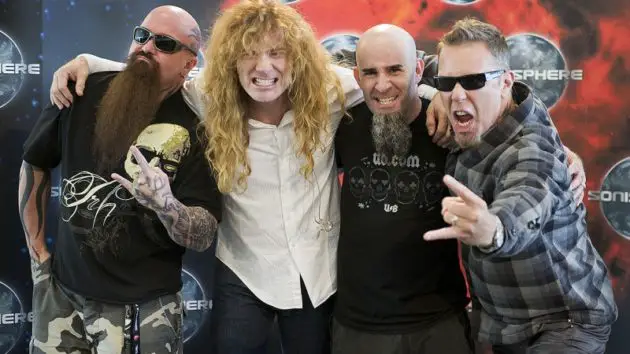 During an interview with SiriusXM's Eddie Trunk, Dave Mustaine was asked if MEGADETH and the other bands would be interested in playing more "Big Four" shows before SLAYER finally retires after their final tour.
"I think if you asked the three of us that, our camps would probably say yes. If ANTHRAX, SLAYER and MEGADETH all want to do it, and METALLICA doesn't, then what do we do? The Big Three? I'm sure that a lot of people would like to see that, and that may be what it is. You know, you may end up having it be the Big Three plus No. 5 if we have EXODUS play with it.
"But it's not about just doing concerts for the sake of concerts. It was about the movement. It was about what we did together as a group.
"Excluding ANTHRAX, we're all like neighbors almost 'cause we all lived so close. It was just a half hour to an hour at at most between each other's houses on the freeway. So, I think it would be great to do more Big Four stuff—do one in Japan. Do one in South America—we never did one in South America; we haven't done one in Asia. Give the people an opportunity to see it before it goes away forever."
Asked by Trunk if there was a highlight moment for him at any of the previous "Big Four" shows that made the experience "extra special," Mustaine said: "Not really. They all had significance to it. I think that the playing at the end was fun too. But I think it always kind of soured to me when you watch Kirk Hammett say on the DVD ['The Big Four: Live From Sofia, Bulgaria'], when they're praying, and he says that 'we're the Big One.' That just kind of shows you how the mentality was there — that it really wasn't the 'Big Four'; it was METALLICA and then the three of us."
Mustaine added: "I would love to see it done in a way where we all got treated fairly and we all played together, same amount of time, same kind of stage situation, but I don't think that's gonna happen. And it's cool, because SLAYER's gonna down in history, and they don't need the 'Big Four' to make them any more legendary than they already are. Nor do I."