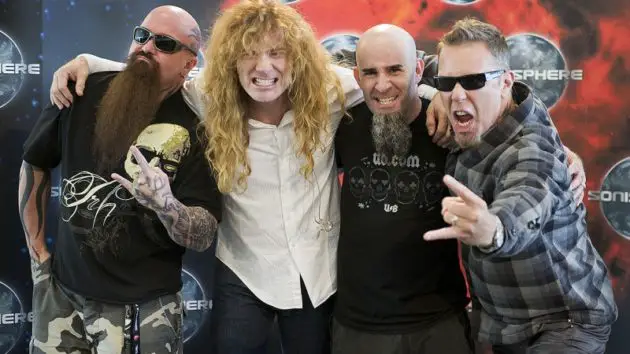 During a recent interview with Guitar World, MEGADETH mainman Dave Mustaine was asked how it felt earning a Grammy for 2016's Dystopia.
"The Grammy was very important to me when we got it," he said. "But I've got to say it was kind of odd because it felt like a lifetime achievement award and right now I don't want to be recognized for a lifetime achievement. 
"I want to get an award for something I did, I'm doing and I'm gonna do, not something I used to do and I'll never be able to do again. At the same time the past few years have made me really appreciate the time I have left and the friends that I have. And I certainly don't wanna leave the planet with the experience that I have and the things that I've learned without passing them on to somebody else."
"I sometimes think how much better things would have been if we would've all tried a little bit more within The Big Four (METALLICA, MEGADETH, SLAYER and ANTHRAX). The four of us still have so much authority and power and we could do so many great things. 
"It would be great if we could get together and have a meeting of the minds as these four figureheads — the metal Mount Rushmore — and think of something special we could do to really benefit young bands and musicians and artists," Mustaine continued. "It would be great to help them avoid some of the situations we got into with contracts and substances. Because most bands make their mistakes right at the beginning of their careers. I'd love to be a mentor to some of these guys and to really help them out. That would be a really good way to give back."
MEGADETH's 16th studio album, The Sick, The Dying… And The Dead!, was released on September 2 via UMe.