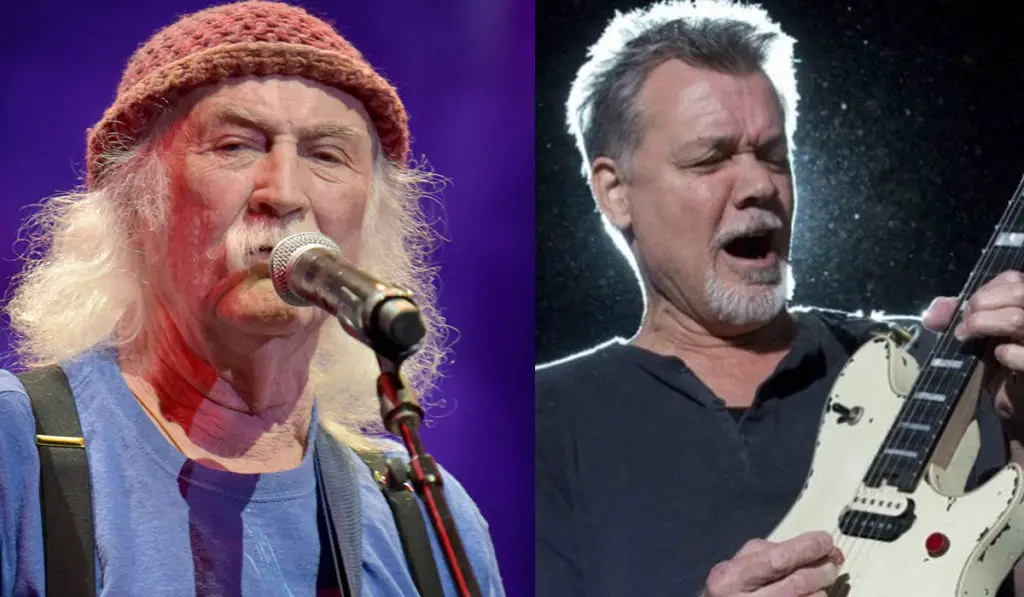 David Crosby of CROSBY, STILLS, NASH & YOUNG says he actually forgotten Eddie Van Halen had just died when he responded "Meh…" to a tweet asking his thoughts on legendary VAN HALEN guitarist.
"Yes you VAN HALEN fans I did just toss off an answer that was not cool," Crosby wrote in a new tweet last night (October 13). "The even more embarrassing truth is… I didn't even remember he had just died or I would have kept my mouth shut… I do make mistakes… no offense intended."
Everything started after a fan asked Crosby, "What's your opinion on Eddie Van Halen," Crosby simply responded: "Meh…"
After another fan added, "Yeah, the guy only CHANGED THE WORLD OF GUITAR. Geeezzz Dave," Crosby then replied: "Hendrix changed the world of guitar. Nobody else really… look I get it… many of you loved Van Halen… and the one time I met he was nice… and he was talented…
"Meh to me means I don't care that much… and I don't… doesn't mean he wasn't good, he was but not for me."
Crosby then received backlash from a number of musicians including  Tracii Guns, Alex Skolnick and Dee Snider.
L.A. GUNS guitarist Tracii Guns slammed Crosby, writing: "Wrong answer as f*ck and rude as f*ck!!! There are better ways to say you don't care for someone's music. That was very disrespectful. And yes straight out f*ck you and your smug answer."
TWISTED SISTER frontman Dee Snider replied to Guns' post, saying: "Agreed. That said, I've always hated David Crosby AND his mustache. #JustSayin"
TESTAMENT guitarist Alex Skolnick chimed in: "I appreciate @thedavidcrosby too much for this to get in the way, but a much better answer would have been: 'I know he meant a lot to so many but his sound & style just weren't my thing.'"