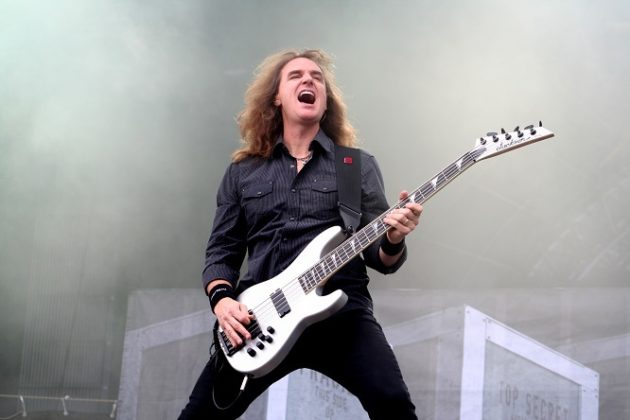 MEGADETH bassist David Ellefson talked about the band GHOST, telling Little Punk People (transcribed by UG):
"They're kinda spooky and scary-looking. I dressed up like a Nameless Ghoul last year for Halloween.

"I went to a Ghost show and I got a mask, so for Halloween I put the mask on, sat on my driveway and scared people when they came by. [Laughs]"
David noted earlier during the chat:
"Like a lot of people, I love this band Ghost. I just started listening to them last year, I'm kind of a latecomer.

"I like them, I like their music, it has a very tranquil, melodic thing."
Ellefson also discussed future MEGADETH plans, saying:
"We're starting to set up out plans for later this year – ideas are starting to come up.

"Definitely looking forward to it – [2016's] 'Dystopia' has been a great album to tour on for so long. We're playing like 6-7 songs from 'Dystopia' now, which is a lot. [Chuckles] So definitely looking forward to start on the next one."
For more info watch the video below where Ellefson talks about MEGADETH's early years and Dystopia tour etc.
MEGADETH's latest album, "Dystopia" opened with 48,000 copies, marking MEGADETH's highest-charting album since 1992's "Countdown To Extinction" debuted and peaked at No. 2 on the chart dated August 1 of that year. "Dystopia" also logs the group's best sales week since 2007, when "United Abominations" landed at No. 8 with first-week sales of 54,000.
https://www.youtube.com/watch?v=_hwsD2fhn34