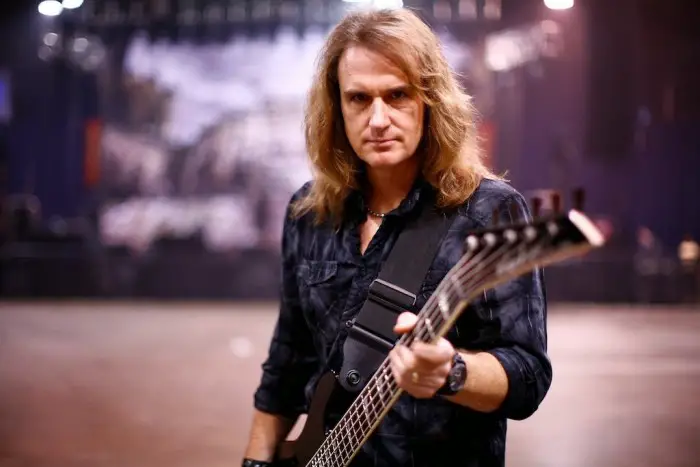 In a new interview with Metal-Rules.com, MEGADETH bassist David Ellefson talked about the progress of the songwriting sessions for the follow-up to 2016's "Dystopia" album.
He said: "We are deep into pre-production, which is a process that we haven't done on recent records. Where we write the songs, sit on them for a bit, then go into this pre-production where we put them under the microscope to fine-tune them before we go in to record them properly.
"With advances in digital recording, it is so easy to play into the computer and move things around later rather than doing what we are doing and moving them before. This was the way we wrote the early MEGADETH  records because we didn't have the luxury of Pro Tools.
"We would sit in a rehearsal room and grind through the songs day after day, week after week. It's great to have the time to sit with these songs every day, and because we are all living together in a house, Dave [Mustaine,  MEGADETH frontman] is next door, and the gear is all set up in the living room. To wake up and play guitar in the morning or when inspiration hits at night is wonderful.
"That's a different absorption process of the material and feels like the vintage MEGADETH albums when we went through that process. As a musician, you could really steep in the music."
Ellefson also talked about the fact that he became a salaried employee upon his return to MEGADETH in 2010. Asked if his current financial arrangement with Mustaine was difficult to share with the world in his book, he said: "Yeah, from the beginning, I was always an equal owner. When Dave broke the group up in 2002, we left our business matters intact. When we reformed in 2004, our disagreements were very much about participation in ownership of the group. Relationships are not static. People have these views of bands; I know I do as well, that when I get into a band, we will be a family, a team, and a gang.
"That is definitely true as a group of musicians in a community. But you find that every band is its own business with personalities and hierarchies in collaborations and contributions. It is different inside each one of them. I'm not going to lie — going from being a co-founding owner to just a sideman musician was initially why I didn't come back in 2004. I was not happy with the participations that were presented to me.
"In recent times, coming back, I found great joy in doing music with a lot of other people in other settings that helped me fall back in love with playing music. Now I can come back into or go into musical situations and be able to be there for a purpose and level of pay. Being a sideman absolves you from being involved in all the other stuff. At this point in my life, I would rather leave that stuff on the sidelines.
"Like American Express says, 'membership has its privileges,' being a sideman has its benefits. In my case, it helps retain a friendship too. In order to have a friendship, I had to give up some ownership."