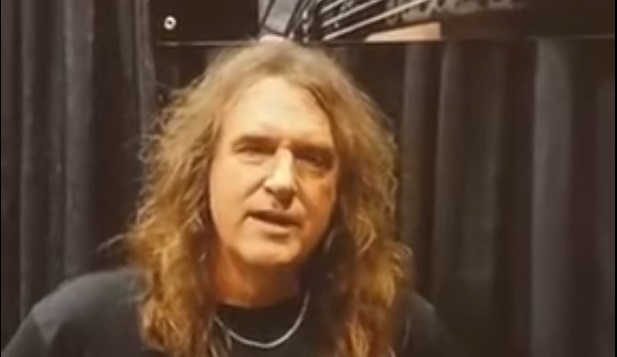 In a new interview with the "Mike Nelson Show," David Ellefson was asked if it's fair to say that Dave Mustaine ran the show in MEGADETH since Ellefson rejoined the band in 2010 and that he and the other members of MEGADETH were treated and paid merely as session members prior to his dismissal from the group more than a year ago.
"Pretty much," Ellefson responded. "The tour ended. There was no retainer; there was no salary. We went off and did our own thing. Which is why — look, to be honest with you — it's why… I've always been entrepreneurial. I've always known music to be entrepreneurial. I [started] a coffee company, did a label, had other things, wrote with other people, did other records, wrote books. That's what it is.
"And I know that's not well liked by some people, because they kind of want it 'all in.' And it's, like, well, royalties buy loyalties. If you want everybody here all the time, you've gotta have them on retainer and salary and you've gotta treat 'em like a staff member so that they're a hundred percent in your team. And it wasn't that. So I think it was pretty clear to me that it's, like, well, when the train stops, we all get off and then we kind of go do our separate thing until it's time to come back together and be MEGADETH again — whether that was recording or touring or otherwise.
"I would say 2018 was… We were off the road. There was an eight-week tour that was booked in Europe. Dave wanted to do some things, and we talked about it. I just remember, as soon as I started sending ideas over for the new record, he was very resistant to 'em; he didn't wanna use 'em. So I was, like, 'Okay. That's fine. Whatever.'
"This last record [the upcoming The Sick, The Dying… And The Dead!] was a bit of a journey. We finally had some collaboration on it, and I was okay with it either way," he continued. "My mindset was, 'You know what? Just show up and play bass. Be that guy. That seemed to have worked, and just do that.' But there always seemed to kind of be rubs over that kind of stuff. So then I was, like, 'Look, I make other records. I have other creative outlets and things that I do.' So I was okay with that. If I didn't participate on a MEGADETH record, it was okay; I could do other things. And that was kind of how I found my peace with it. But I know that was a bit of rub in certain areas. But you can't have it both ways. You can't date and be married — pick one or the other. Do it that way.
"Without going into a whole bunch of detail of it, that's kind of what it was. So when things came to an end last year, to be honest with you, maybe things had to happen in a way that they just needed to be sort of split apart. I didn't think they had to be, but that's a decision they made, so it is what it is. I don't hold a grudge and I'm not sitting around with bitter grapes, sour grapes about the thing. I've moved on. I've always had a lot of other things. THE LUCID record was already teed up. This ELLEFSON solo record that I have, we were finishing that up at the time. 'Cause I just knew I needed to find creative outlets in other places, because it really wasn't that well received in the MEGADETH world. So I found it elsewhere… And you know, in some ways I kind of feel like I fell upward. I made some really great friendships, some really great collaborations, doing some new things that I probably wouldn't be doing if things hadn't gone down the way they did. So I'm not sitting around bitter about it at all. I wish them the best. They're doing their thing with their record. I know that record 'cause I already played on it. [Laughs] I know it — I know the songs. I know what it is. I haven't heard most of it with vocals on it, but… So, to me, it's kind of part of the rearview mirror for me. And not disrespectful — just it is what it is. We're a year past it now and things have moved on."
On what he would say to Mustaine if they came face to face right now, Ellefson adds: "I'm sad that things went down the way they did because I don't think they had to. I knew that everything was fine. And it was a scary moment there for a second, but I knew it was okay. Just over time, our lives just take different directions, and that doesn't mean you can't be in a band together 'cause you've got different lives. But at the same time, again, things just… I guess they just needed to come apart for this next season of life. And we've been here before where things came apart and then they came back together and they came apart. Maybe this is just how it is. Me and Dave are brothers from another mother; I mean, we just are. It's kind of ironic our names are both Dave; brothers aren't usually named the same. But, you know, there is a weird thing.
"It's funny. When I went back to the band in 2010, even my wife, she goes, 'It's okay. You can go back to your first wife' — meaning MEGADETH. She knows her place. She knew her place. 'I know that came before me, that you're a musician, that you and Dave have this very karmically strange friendship with each other that's hot and cold and hit and miss. And you guys love each other like brothers. And some days you get along and some days you don't.' And I don't put that all on him; some of that's for sure on me. So, I think it's probably the best way to put it — it's kind of a karmically interesting friendship. [Laughs] So, yeah. So this is where we are."
As previously reported, Ellefson was fired from the group after sexually tinged messages and explicit video footage involving the 57-year-old musician leaked.