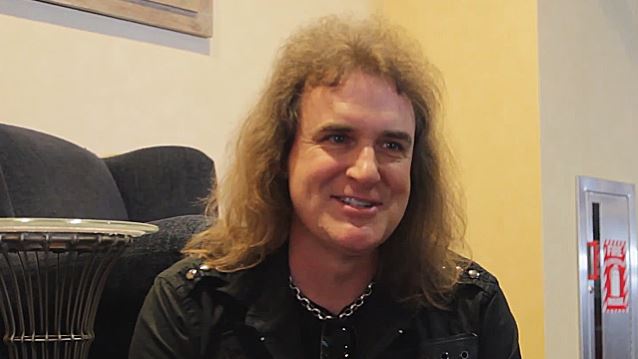 During a recent interview with This Day in Metal, bassist David Ellefson was asked  if he envisions a day when bands like MEGADETH and SLAYER will finally get inducted into the Rock And Roll Hall Of Fame.
"Here's the funny thing: out of all the people, I'm probably most supportive of the Rock And Roll Hall Of Fame," he responded. "And here's why: because I'm already in it. And here's how — and it's not because I walked in and got inducted.
"In the late '90s, we did a big auction on [MEGADETH's official web site] Megadeth.com and we sold off a ton of gear that we had at our storage unit here in Arizona, when the band was based here at that time. And a fan bought pretty much a bunch of my Jackson basses that I had from the early days, they bought some B.C. Riches. The B.C. Rich bass I used in the 'Peace Sells' video that's got the Mockingbird and that's got the fighter jet on it, a fan bought it.
"Actually, I think Dave McRobb, who runs the social media or the fan club of MEGADETH, I think he might have bought it and he sold it to this guy, and I think that's how it went," Ellefson continued. "He sold it to this fan. And the fan, rather than doing the douchey thing of just putting it on eBay and trying to make a bunch of money from it, he put it on consignment at the Rock And Roll Hall Of Fame, and it was the first piece of heavy metal memorabilia — period — in the Rock And Roll Hall Of Fame.
"Then they put Dimebag's [late PANTERA guitarist Darrell Abbott] guitar. And now there's kind of a little heavy metal exhibit there. But it started with my bass. So, honestly, I'm already there. So I'm good. [Laughs] And, obviously, it represents MEGADETH. And so by way of this fan being cool, he sort of snuck MEGADETH in under the wire, which I thought was actually pretty cool."
Even though artists are eligible for the Rock And Roll Hall Of Fame 25 years after the release of their first album or single, iconic hard rock and metal groups like IRON MAIDEN, JUDAS PRIEST and MOTÖRHEAD have yet to be recognized by the institution, which inducted GUNS N' ROSES in that band's first year of eligibility.