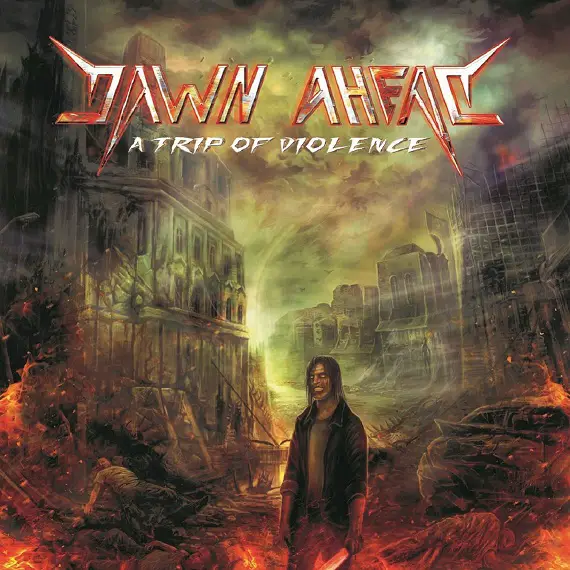 Thrash Metal bands are the which have surprised me the most. I had a general view that everything was done when it comes to Thrash. But, then, I started reviewing albums here on Metal Addicts and my perspective got ampler. Thrash bands understood that the moment now is of merging and bringing influences into their music. Bands can't stand still, trees do that, not Metal bands, in spite of the common sense. Metal is the musical genre that is evolving and evolving fast as I always say here. Dawn Ahead "A Trip of Violence" is an album that shows all the movement, by movement I understand the philosophical term that means change.
"A Trip of Violence" is of six tracks and none of them are at any sort similar to each other. They are all different. In fact, what Dawn Ahead did is not exactly new. 1980s early thrash bands, the ones that could be labeled as the pre-thrash or the ones which influenced thrash bands, used to do that. Accept are a great example. 'Ah, but Accept aren't thrash'. I agree, they aren't, and never were, but can you disagree that they are one of the bands that influenced thrash the most? I guess you can't. Take vocal lines in "A Trip of Violence" for instance. Dawn Ahead uses different ones as Accept did. The same gritty-clean contrast, or even sometimes, duels. Listen to "Sinister Thoughts" and you'll get it.
I dare to say that when you listen to tracks as "The Betrayal" what comes to mind are 1990s Heavy Metal bands as Primal Scream. They got elements of thrash, at times they were very near thrash, but for real they weren't thrash. Dawn Ahead do the same. "The Betrayal" is a great track. Main guitar lick that bridges to a nice chorus is a killer which give the song a very serious vibe as of a cataclysm, or something like. Following track "The One and Only" is completely different from the others. It starts with a cadenced guitar riff, those ones that are made of one note only played at time with hard strikes in other notes. You get the idea, don't you? The effect is big.
Track Listing:
Sinister Thoughts
A Trip into the Dark
A Taste of Violence
The Betrayal
Capturing Hell
The One and Only
Watch "Hunter" from "Dawn Ahead" official video here:
https://youtu.be/naOxD4BNPpA