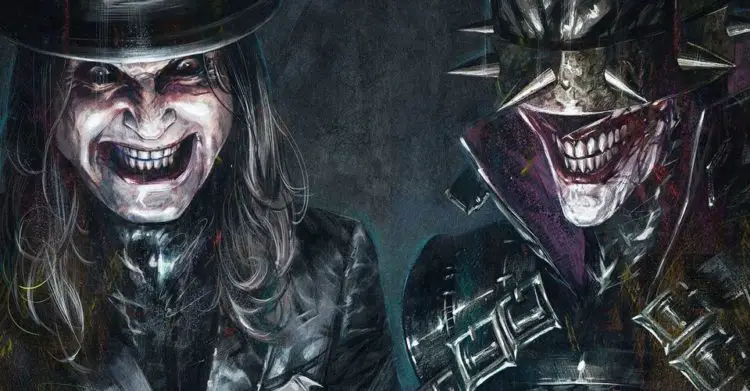 Metal has always been prone to be more than just the music. The image of power and might is to good to be left away by comics, movies, and others. Now DC Comics is bringing Ozzy Osbourne, Megadeth, and more metal bands on a world tour for the international launch of the Dark Nights: Death Metal event. The seven-issue limited series that shook the DC Multiverse to its core was written by Scott Snyder with art by Greg Capullo. It originally ran in the United States from June 2020 to January 2021.
Dark Nights: Death Metal is the sequel to the 2017 event series Dark Nights: Metal and concludes storylines that had been building in the DC Universe for several years. Death Metal centers around heroes and villains from across the DC Universe coming together for an epic battle against the Batman Who Laughs, who seeks to remake the Multiverse in his image. To combat this monster, who eventually ascends to a more powerful version of himself called the Darkest Knight, heroes like Wonder Woman, Superman, and Batman travel across Multiverses and endure death itself in order to save the universe. The event included multiple tie-in issues that put dark spins on some of the most famous DC storylines, and it concluded with massive ramifications for the entire DC Universe and line of comics. The end of Dark Nights: Death Metal set up the current Future State event, which will in turn lead into the Infinite Frontier relaunch that will begin in March.
The launch of the international editions of Dark Nights: Death Metal will begin with a variant cover of the first issue featuring Megadeth by artist Juanjo Guarnido. The second issue by Werther Dell' Edera will feature the band Ghost; the third issue by Giovanni Timpano and Antonio Fuso will feature Lacuna Coil; the fourth issue will feature Opeth by artist Mathieu Lauffray; the fifth issue's band will be Sepultura by Rafael Albuquerque and Pedro Mauro; the sixth variant cover by Santi Casas will feature Dream Theater; and the series will conclude with a cover featuring Ozzy Osbourne by artist Marco Mastrazzo.
Thanks to Screen Rant.