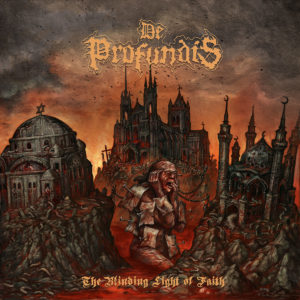 Guitar lovers, behold! I present you one with the most incredible guitar riffage and soloing releases of this year. De Profundis with "The Blinding Light of Faith." An album that achives to be at the same time incredibly heavy, melodic, raw, complex played, and – now I dare – beautiful. Get started with the guitar passages in "Bastard." De Profundis are good, damn good!
It's absolutely impressive the way they mix lots of awesome instrumental passages without loosing any inch of heavyness and punch. The guitar duo build textures of the most amazing complexiness and beauty. I know I told that before, but it's so because I'm really impressed. In general, great instrumental acts are kind of boring. They lack excitement. But that's not the case. De Profundis show tons of excitement. Perfectly seem that it's a band that do enjoy what they're doing. "The Blinding Light of Faith" is an effort of faith. I mean no disrespect by that, but faith is needed to build such an incredible effort. Nobody was blinded in here. True fact.
But when you think you've heard enough of awesomeness, there comes the last,  but not the least "Bringer of the Light" with its riffage, licks and exclelent intro. If you cut out vocals, one may think it's a NWOBHM act. The same as "Godforsaken." Well, the only thing I can do is… Listen again! Let it roll Winamp!
"Opiate for the Masses" is another tune of great natural instrumental passages, not to mention its lyrics. Such lyrics and attitude are the things pop lovers hate so much in Metal music. Metallers really don't care if what they are going to say is going to hurt anyone's feelings. It's not really our intent to make things shine. We're no hypocrites at all. Though, lyrics have to face reality, the no matter how cruel it is. And it generally is. Metal is for the strong. Rainbows are only in the late, and great, Dio's song, nowhere else.
De Profundis are teaching a very hard lesson here to other Metal bands: it's possible to mix great instrumental passages and still be rough.
Well, De Profundis just got another loyal fan. Iam deeply sorry I haven't met the band before. That's what I can say.
De Profundis "The Blinding Light of Faith" was released on May 10 via Transceding Obscurity Records.
Track Listing:
Obsidian Spires
War Be Upon Him
Opiate for the Masses
Bastard Sons of Abraham
Martyrs
Godforsaken
Beyond Judgement
Bringer of Light
Watch "Bastard Sons of Abraham" official video here: