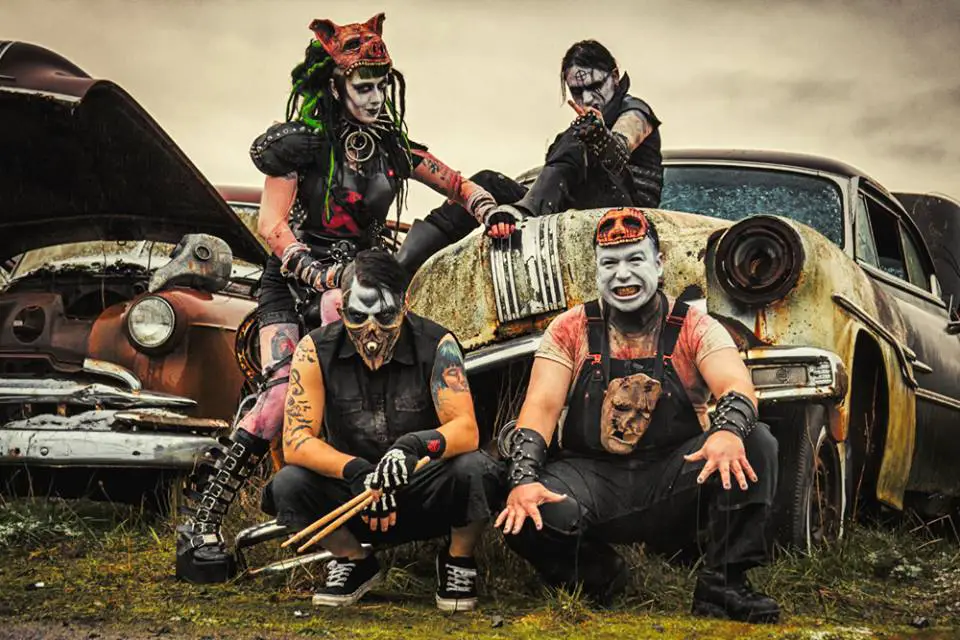 DEAD ANIMAL ASSEMBLY PLANT released their debut music video for "Rise With Me". You can watch the video below.
"Rise with Me" is an intense and deliberate music video highlighting the darker side of the human persona; written to show the effects of media outlets highlighting mass shootings in modern day America. DEAD ANIMAL ASSEMBLY PLANT, a Portland-based "down and dirty" industrial act is known for their theatrics and incredible live performance; and now music videos. DEAD ANIMAL ASSEMBLY PLANT has shared the stage at Knotfest with Slipknot, Korn, Bring Me The Horizon and more. Directed by Karl Whinnery, "Rise with Me" was filmed during Oregon's most extreme winter in 40 years under brutally cold and snowy conditions.
The band comments: "Witness as popular media exploits our obsession with violence and mass shootings in the pursuit of higher ratings. Explore the depths in which those minds are twisted and on the brink of total madness; fueled by their own dark desires. Commanded by the priestess – an effigy of all that want; but cannot have. They prepare to face their social obligations as agents of divine fear and delusional retribution."
DEAD ANIMAL ASSEMBLY PLANT's OFH: Prime Cuts was mixed by Marc Jordan and mastered by Howie Weinberg (RAMMSTEIN, MUSE, NIRVANA).