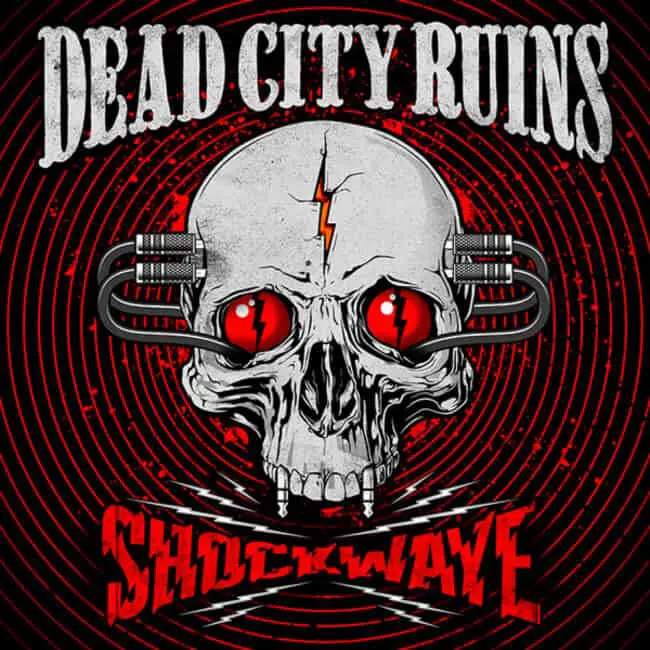 Dead City Ruins are a combination of many bands. First of all and most important Led Zeppelin as album opener "Preacher" tells us. The song opens up with a flaming catchy guitar phrase with a very particulat taste of AOR with a 'Hey, hey, hey' war cry that makes the fan knows exactly what the band is all about. And that is energy. Lots, tons, truckloads of energy. The kind of song that ignites the room with its flaming guitars and the pounding simple but effective drumming spiced by a strong voice that gives the band lots of personality. If my dear fan pays close attention Steve Welsh's tone of voice reminds Skid Row's Sebastian Bach's at his creativity peak. Undoubtedly, "Shockwave" started with the right foot. And the foot goes straight ahead to your throat. Right, simple, and direct. In general, this is the tone of the album with lots of strong guitar phrases that take the fan direct to the good of times when Hard and Heavy was the thing.
When I said before that Dead City Ruins are a combination of many bands I meant it but I didn't mean to diminish the band. Bands are always a combination of the bands that came before as nothing comes out of the blue. To that steaming cauldron add generous doses of AC/DC, some Aerosmith, and, of course, Skid Row. Each track of the album has its particular influence. "Madness," for instance, seems to be a combination of Aerosmith with Alice in Chains. The song gets both bands intents and mood to be combined in a very particular way. I mean in Dead City Ruins' way. Following track "Rain" has the same vibe though it starts with an acoustic blues inspired intro that goes wild. "Drifter" has also a blues intent. As a matter of fact, the song is a pretty heavy blues tune with a prominent bass and that 'lazy' drumming that gives all the taste.
Sometimes it's harder to write about an album that has a known sonancy. I find it easier to say about the unknown. Of course, it doesn't mean that "Shockwave" isn't interesting. It's just more difficult to find the right words.
Dead City Ruins "Shockwave" was released on August 19th 2021 via AFM Records.
Track Listing:
Preacher
Vision
Madness
Speed Machine
Rain
Dog on a Leash
This Side of the Dirt
Drifter
Spiders
End of the Line
Blood Moon
The Sorcerer
Watch "The Sorcerer" official music video: