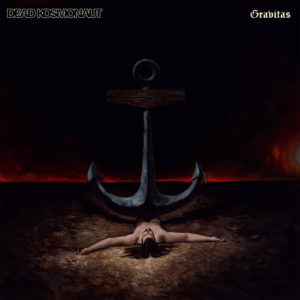 We all know that Heavy Metal has many and diverse facets. Some of them are carefully hidden in the hearts of all Metal fans in this sad and lonely and pathetic planet. To listen to a great Metal band has the power to change the world – at least for the fan who is listening. Today I was feeling broke, tired, exhausted for a million reasons and mainly because I was bricklaying some things here at home due to a huge water trouble. When I sat and started to listen to Dead Kosmonaut "Gravitas" all the pain had gone and the healing process started. Metal has also the power to heal and relieve you pain and grief. No matter what.
The first impression the fan got while listening to Dead Kosmonaut "Gravitas" is to be at some kind of Progressive Metal band with the strongest taste of Iron Maiden. I don't know why, but to be frank, Dead Kosmonaut don't sound so much as Iron Maiden. Maybe it's the feeling, and feeling is everything. Maybe this feeling comes from vocalist Pelle Gustafsson, but the truth is that the man has a versatile voice. From first track "Black Tongue Tar" to second track "Iscariot's Dream" he changes his tone a lot. Again, to be fair, the band changes a lot the way they play. Dead Kosmonaut are a skillful band that are able to face a ton of Metal styles. Ok, but when it comes to "Vanitatis Profeta," Pelle Gustafsson does a Dickinsonish voice. I mean, it is the way he imposes his voice. By the way, bass lines are killers in this song. Eleven minute "Hell / Heaven" sounds fantastic with its Chorus pedal effects in the guitars that so many made use in the past, but no one seems to like them nowadays. Fans of Queensrÿche will go crazy also the fans of great Metal music. The kind of music that make you trip. Great change of guitar tones that made the song unforgetable.
"Gravitas" is a good example of how a band can write an album full of technique and still be palatable to the ears of the fans – palatable to the ears? Hum, okay, taste sounds best.
Dead Kosmonaut "Gravitas" will be released on January 31st via High Roller Records.
Track Listing:
 Black Tongue Tar
Iscariot's Dream
Vanitatis Profeta
The Spirit Divide
Hell / Heaven
Gravitas
Dead Kosmonaut – Part I
Dead Kosmonaut – Part II
Watch "Black Tongue Tar" official video here: