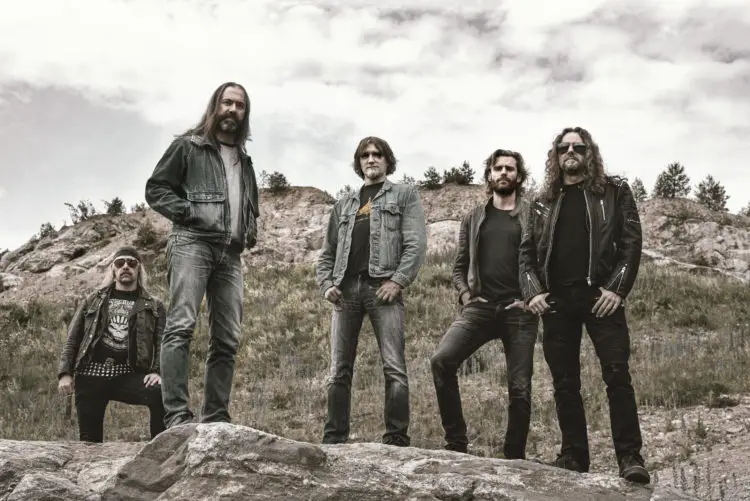 High Roller Records proudly presents the second full-length of Sweden's DEAD KOSMONAUT!
DEAD KOSMONAUT's founder Mattias Reinholdsson once described the band's sound by pointing out that the early metal bands had no restrictions on how their material should sound. "These were musicians who'd not grown up on metal music as it didn't exist," he said, "so their take on it had many different facets and albums had acoustic songs, jazzy songs, bluesy songs, progressive songs… I want Dead Kosmonaut to be that sort of band, so that when you listen to one of our songs you don't really know what's coming next…"
DEAD KOSMONAUT's second album "Gravitas" certainly subscribes to that theory. The band serves up a variety of styles and song structures and displays such an array of influences as to keep even the most discriminating metal fan as happy as a dog with two tails. Such is their mastery.
The Swedish band opened their account with "Expect Nothing" in 2017, and followed it up with the "Rekviem" mini-LP in 2019. With a settled line-up consisting of Mattias on bass, vocalist Pelle Gustafsson, guitarists Fredrik Folkare and Pär Fransson and drummer Henrik Johansson, DEAD KOSMONAUT are largely based in Stockholm. "I have tried to put together a strong line-up for the band and I am confident that 'Gravitas' illustrates that. It's more of DEAD KOSMONAUT. It's wider and deeper. The heavy stuff is really heavy and the melodic stuff is even more melodic.
"With 'Gravitas,' once again I set out to create an album displaying a wide selection of hard rock and heavy metal songs. I was pleased with the way 'Expect Nothing' and the mini-LP came out, and I never thought of narrowing down the sound of DEAD KOSMONAUT; rather the opposite, in fact, as I wanted to put more facets and elements into it."
The dynamics of the songs also played their part in how "Gravitas" finally appeared. "When I began the work of putting the album together I knew I had two long songs to fit in as well as the more 'regular' length tracks. So I came up with the idea of making 'Gravitas' literally an album of two sides – the first more hard rock and the second perhaps more progressive, in that the songs are, perhaps, more adventurous, like Iron Maiden's 'Rime of the Ancient Mariner,' say, compared to '2 Minutes To Midnight.' So, the first side is four songs that will hopefully grab the listeners' attention and lead them to side two with the two long songs. I also realised that I needed a transition between these two long ones, so I came up with the title track."
A handful of guests played their part in the execution of "Gravitas." "Daniel Moilanen (Katatonia, Runemagick) plays some drums as well as Fredrich Rönnholm who played on a few songs on the first album. We also have a proper church organist in Mats G. Eriksson performing on the song 'Dead Kosmonaut.' Per Broddesson plays guitar on the two songs he recorded before he decided to jump ship – we felt that as he was a part of the process of creating the album he should be featured. Last but not least we have a choir singing on 'Dead Kosmonaut.' It's pretty massive. But on the whole I am glad we have a more stable line-up with this new album. Let's hope it stays this way," he laughs.
Read our review here.