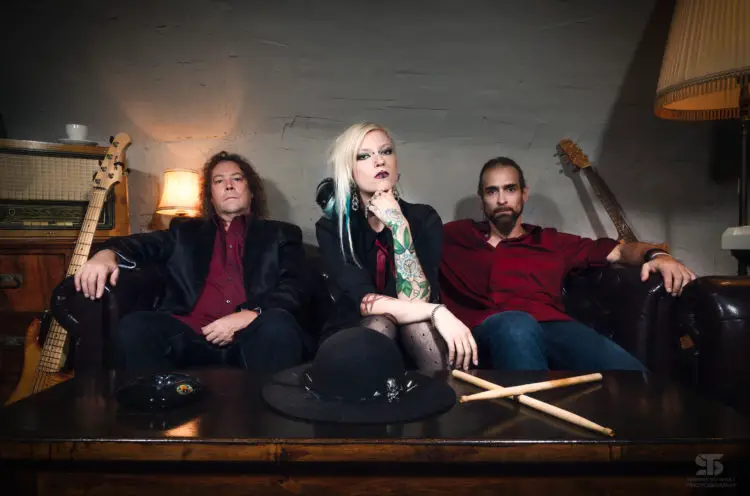 Seraina Telli formed Dead Venus in early 2015. For a year or so before this, she combined lead vocals for German neo-prog band Surrilium with a solo career but decided she needed her own team to develop her ideas.
However, Seraina's unique brand and style made finding the right people a challenge. Mike Malloth (drums) answered the call and recommended bassist Andre Gaertner to complete the trio. By 2017 with these two experienced musicians on board, enough material had been created to produce a full album. Lead-singer Seraina also provided piano, keyboards and acoustic guitar.
During this period, Seraina was also lead-singer with the all-girl heavy-metal band Burning Witches but decided to leave to fully devote herself to Dead Venus, its song-writing and most of the compositions for the upcoming album. The band arranged all of the songs.
The debut-album "Bird of Paradise" consciously avoids electric-guitar, auto-tune and drum samples. A fact a sticker on the album packaging refers to with trademark humour.
Right now, the band will stay as a trio, including live performances. As well as Seraina's input, Andre produces the distorted guitar sounds and clean base allowing Mike to focus on not losing the "one"…
On March 6th 2019, Dead Venus released their first self-titled EP which was available through the band's Home and Facebook pages. It contained three songs and was a sample of their first full album "Bird of Paradise" released on September 13th 2019. The album was released digitally on all the common streaming sites such as Spotify and Apple Music and also worldwide on CD and double-vinyl.
Band Line-Up:
Seraina Telli – vocals, keyboards and acoustic guitars
André Gaertner – clean and distorted basses
Mike Malloth – drums
Read our review here.