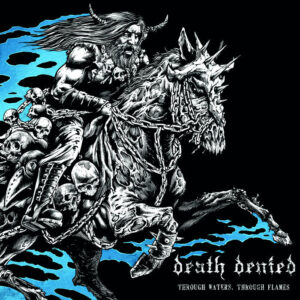 Have I already said that some albums deceive? Have I already said that albums tittles and album covers deceive as well?
Well, to extremely honest. I would never imagined a band named Death Denied would make the kind of music they do. I mean, it's too far. It would be easy to say they were Doom Metal or Death Metal, but I would never wonder they make a so melodious and groovy music. Musicwise, Death Denied address in essence to the guitars of The Doors mixed with some 1970's Jazz Rock. However, there is some Doom Metal essence hidden in the album. It's hard to explain what gives me this impression. Maybe it was first track "The Apostate Soul" whose intro leads to a Doom Metal sense. Or maybe the tittle of following track "High Priestess of Down Low" whose sonancy leads to another completely dissimilar path. In a nutshell, "Through Waters, Through Flames" is really a cauldron of influences and sonancies from the 1970's Heavy Rock to modern Heavy Metal. Sometimes, as in "The Machine," the band shows a flair for Extreme Metal due to the low-tuned guitars. Ah, I forgot to say about the grooves from tracks as "Behind the Surreal." However, the groove I see is much more related to the 1970's groove than to the 1990's from bands as Pantera or Sepultura. No doubt, though, there is a lot of rock'n'roll in the album as "Concrete Cathedrals" main guitar riff lets the fan think. Well, what to say of "Celestial Choir" groovy guitars and vocals? So 1970's, so 1990's.
To write the review while listening to the album sometimes brings surprises. As I listen to "Smoke, Soot and Solitude" I kind of rethink what I wrote about the 1970's groove. However, this track made me insist on my thesis about The Doors. "Smoke, Soot and Solitude" somehow made me reinforce the idea. I say somehow because I can't explain it better the guitar tones and way of playing. Maybe the same experimental spirit that The Doors had of bringing to their music some unusual mixes. Maybe this explains better.
Death Denied "Through Waters, Through Flames" was released on April 07th, 2022 via Sarcophagus Records.
Track Listing:
The Apostate Soul

High Priestess of Down Low

Lesser Daemons

Carnage

The Machine

Behind the Surreal

Smoke, Soot and Solitude

Concrete Cathedrals

Celestial Choir

Nocturna
Watch "Behind the Surreal" official music video here: