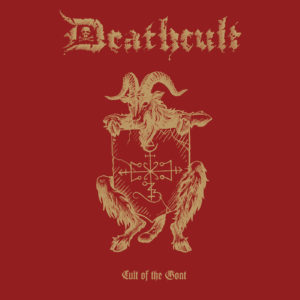 It's been some time that an effort with such punk attitude musically speaking comes to me. Pure first wave of black metal with all the hardcore influences. Deathcult is raw and unpolished as first black metal efforts used to be. Don't expect any musical virtuosity in "Cult of the Goat." It is what it is. Deathcult also show in some parts of "Cult of the Goat" that 1980s gothic music is part of their influences. Specially on the first track, "Climax Of The Unclean."
Musically speaking several guitar phrases and riffs are very simple. Also the bass lines. I believe that's Deathcult's stapler. Guitarrists abuse of note repetition in riffs, as in "Ascension Rite." There's some refinement too. Modern black metal metal listeners require that. "Man Versus Beast" has some embellishments. But don't ask too much. Deathcult can't loose their rawness. Its six minutes brings lots of musical changes. But the motto is the martial cadence, so livid in punk songs. "The Oath" is the best example. It's funny how to be retro can be so refreshing these days. Deathcult are refreshing because it's simple. Pure raw music. Unpolished till the end. And that's something to praise on.
But that's not all. There's some room for some experimentation. "Devilgoat" has some weird sounding. Some weird instrumentals. Some oriental sounding in the middle of it. Some sick Led Zep's influences at all. Its more than ten minutes of music shows some surprises. No doubt. Deathcult can surprise us. And I thought that "Cult of the Goat" rawness would go smoothly unchallenged. My bad. Really weird stuff.
Track Listing:
Climax Of The Unclean
Bloodstained Ritual
Ascension Rite
Man Versus Beast
The Oath
Devilgoat
Laudate Hircum
Deathcult's "Cult of the Goat" will be released on December 15th via Soulseller Records.
Watch "Ascension Rite" official video here.