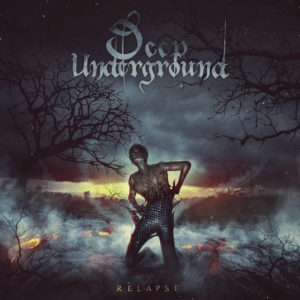 Do you know what happens when art rock meets Death Metal? Deep Underground debut album "Relapse" is the right answer. The perfect dose of art rock keyboarding with the high adrenalized aggression of Death Metal. "Relapse" is an album with a very neat instrumental as its predecessor the EP "Perspectives." I'd say that the band sails away further into art rock waters in "Relapse." Even though 5 out of 12 tracks are from the aforementioned EP, tracks are even more compromised with the use of the keyboards. The outcome? Great, in my opinion because "Relapse" doesn't give an inch from all the power and aggression a Death Metal effort must have. The keyboards add that something else it lacks in many acts.
As I said before, the cherry of the cake in Deep Underground is the neat instrumental of tracks like "Filling the Endless Void" in which guitar and keyboard solos are amazing and very well concerted. Picture a Death Metal Deep Purple, that's it. Those are the advantages of having a keyboard, it can sound like a keyboard, a guitar, a bass, piano, harp, and whatever. Following track "Herbal Life" shows the duet again. Drummer Eduardo "Tato" Chaves (RIP) did a great job in "Relapse" not only with very creative blast beats, but also with amazing counter-times paces. Vocalist Gabriel Martínez also does a very good work. He doesn't only stick to the gritty  and roar vocals, he can also sing clean. It makes a lot of difference.
It's a great experience to review two albums from a band in a role. It makes possible to watch the evolution of the band. From "Perspectives" to "Relapse" Deep Underground has evolved. Instrumentals got sharper and more complex. Songwriting got even more careful. That makes Deep Underground an easy to listen. From heavy metallers to death metallers. The duels as in "The Devil's Fire" got even more intense. I like those duels a lot.
P.S.: We dedicate this review to drummer Eduardo "Tato" Chaves.
"Relapse" Deep Underground was self-released on October 7th.
Track Listing:
Walk in the Fire
Perspectives
Lullaby
Who Said That Murder In Not An Art
Printed in My Skin
The Red Sun Is Arriving
Autumn Leaf
Filling the Endless Void
Herbal Life
Undeniable Murder
The Devil's Fire
Relapse
Watch "Autumn Leaf" official lyric video here: