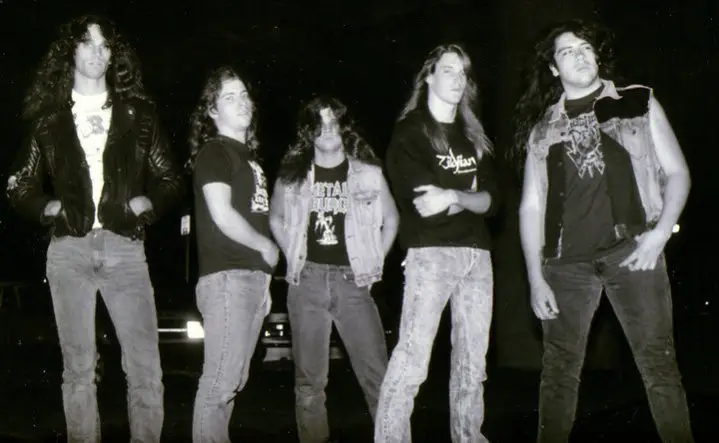 Long-defunct Oakland thrashers DEFIANCE have been asked to reunite in the not-too-distant future, including taking part in European festivals such as Germany's Keep It True. The band stated on their Facebook page that they would "never say never" to playing shows again, leading fans to indicate that a proper DEFIANCE reunion is on the horizon.
No word yet on an official lineup, but founding members, guitarist Jim Adams and bassist Mike Kaufmann, are expected to be involved. Whether longtime vocalist Steev Esquivel (now in SKINLAB) will be part of the band's reunion also remains to be seen.
DEFIANCE is best remembered for their association with the late 80's Bay Area thrash metal scene, along with EXODUS, TESTAMENT, DEATH ANGEL, HEATHEN, VIO-LENCE, FORBIDDEN and many other bands. They played a decidedly technical style of thrash originally evoking bands like TESTAMENT, though they would later move on to playing in their own unique, more progressive thrash style.
Formed in 1985, DEFIANCE released three full-length records on Roadrunner Records – Product Of Society (1989), Void Terra Firma (1990) and Beyond Recognition (1992) – before breaking up in 1995. The band returned more than a decade later, releasing one more album The Prophecy in 2009, and then breaking up once again in 2012.
Metal Addicts will keep you posted when official news on a DEFIANCE reunion comes to light!