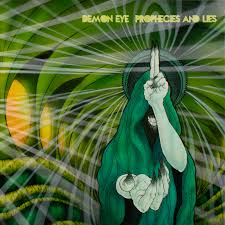 I was looking at my list of bands to review and I glimpsed that Demon Eye "Prophecies And Lies" has been there for a while. The thrills and pleasures of a reviewer's life. So I played "Out Of Control" on. Oh, boy! Why did I wait so long to hear thar? The opening track, "The Waters And The Wild," is so damn well riffed. A flush of colors and musical delight hit my ears. Demon Eye are a band that work perfectly with their retro influences. It would be much easier to say that Black Sabbath is their greatest influence, but it wouldn't be precise and fair. Erik Sugg's voice reminds a lot Geddy Lee's Rush, and that's exactly  what gives Demon Eye "Prophecies And Lies" its own personality.
"Prophecies And Lies" is an eleven tracked album that makes a difference in today's musical world. It's a living proof that good pentatonic riffing is never too much, and it still works fine. And the blend with progressive rock can still make wonders as we hear in "Dying For It" and its zeppelinian chorus. But I wouldn't rush to label Demon Eye as a retro band. I leave that for the fashionist people. As I told before: good music is never retro.
Demon Eye are really a band of riffing, I must say. Each song features a complex melodic structure and dazzlying guitar riffs. I bet the guitar duo must spent days and days to build them. On second thought, I guess it comes naturally. That's what we feel with "Prophecies And Lies," a natural riffing band which write songs in a second with no struggle. Just count one-two-three and things flow. That's what we can tell by "Vagabond." The song flows so smoothly that one can't tell it took a lot of time to be written. That's the brighter aspect about Demon Eye. Only one thing else: I miss more guitar solos as on "Prophecies and Lies."
Track Listing:
The Waters and the Wild
In the Spider's Eye
The RedeemerKismet
Infinite Regress
Dying For It
Politic Devine
Power of One
Vagabond
Prophecies and Lies
Morning's Son
Demon Eye "Prophecies And Lies" will ecclipse the light on August 11th via Soulseller Records.
You can stream the track "The Waters And The Wild" here.
Watch "End Of Days" here: