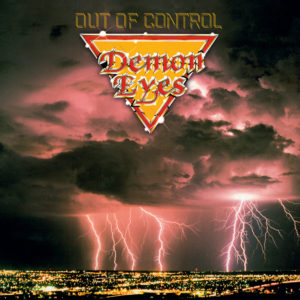 Mr. Bart Gabriel and No Remorse Records are really doing an astonishing job to a bunch of classic Metal bands. This series of reissues of classical french Metal bands is really something worthwhile. We have already reviewed some bands of this series here, and the today's subject is Demon Eyes with "Out Of Control," which was originally released in 1990.
Vibrating! That's what I got to say about Demon Eyes's "Out Of Control." I had almost forgot how Heavy Metal could be so vibrating, so full of life. Pure 1980s delight. And fun. "Out Of Control" is also fun. Catchy guitar riffs and choruses as in "Shy." The title track, "Out Of Control," is a little unexpected though. There's some Duran Duran scent in it. A funky bass and a powerful guitar. This song title sure makes a stand, if you know what I mean. But soon after Demon Eyes's "Out Of Control" get back on track with powerful and cacthy guitar riffs in songs like "Gotta Wait." Demon Eyes have its pop verve, I must say. And that's not bad at all if it is kept under extrictly and firmly control. The result can be remarkable songs as "Gotta Wait."
The pop verve returns on "Fantomas," which is sang in French. The outcome is funny, too Duran Duran for me, but being honest the constrast is pleasant. BTW, from "Fantomas" on the songs are all bonus tracks, and all are in French, which gives an extra dash of emotion to the songs, that's true. Needless to say that they sound a bit different. "L'invincible Force De La Mort" (The invincible force of death) is a great title, and also a good tune with an inspired guitar solo.
I'd say the catchy guitar riffs make the album worthwhile, and my congrats to Mr. Bart Gabriel and No Remorse Records.
Track Listing:
Lady White Bride
Songs Of Death
Shy
Out Of Control
Let Me Go To The Party
Gotta Wait
Just For A Night
Dreams Never Lie
Fantomas (French Version)
Empire Et Gloire (Unreleased Bonus)
L'invincible Force De La Mort (Demo)
Mal Divin (Demo)
Les Deux Maudities (Demo)
Ombre Du Malheur (Demo)
Remords Posthumes (Demo)
Pestiferes (Live)
"Out Of Control" is limited to 500 copies and will hit the streets on July 10Th. You can purchase it via No Remorse Records link.
You can listen to "Out Of Control" via Soundcloud.
Watch "Lady White Bride" here: