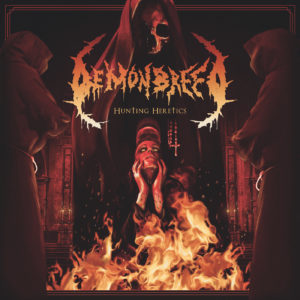 Say hello again to sharp guitars that cut as a scalpel; thunderous basses that shake the books in your bookcase; vocals that shrivers the most haunted soul in this world, and drums that blasts your brains into your skull. Welcome back the might Demonbreed with "Hunting Heretics" their new effort so long waited. So sorry it's only an EP with five tracks, but they are enough to notice the pretty good shape the band is. Demonbreed are one of those rare bands that can balance perfectly various moments in an effort. "Hunting Heretics" is an album full of moments, not only the well-known blast beats – well, Mustaine said he didn't know them at all -, but also the cutting edge guitars that do most of the magic with inspired and technical riffing. Demonbreed alternates skullcrushing and mindblowing Death Metal features with the finesse only the great bands have.
"Hunting Heretics" is strong, with no mercy and concessions for any kind of other thing than Death Metal. Of course, we respect that. The EP opens up with "Fear the Veredict" with a slower tempo, but heavy as hell with strong and intense guitars. The main riff is a killer interweaven with a harsh powerful voice that make your blood freezes. The finesse is also  present in the grand finale in a smooth and effective guitar phrase that fits perfectly the vibe Demonbreed want to share. Great choice to kick off an album. "Deadly Superstition" takes off with a slayerish guitar riff, but soon Demonbreed remind us that they are a band of a tender finesse which comes again in the guitar solo. Don't forget all the enthusiasm that "Confessions in Fire" brings us. As I said, "Hunting Heretics" is an album full of moments. Each one of the five tracks herein is full of surprises. Demonbreed can't follow the rules straight ahead, they urge to get a moment to subvert them. That's why is "Hunting Heretics" an album so full of surprises. Don't expect a mere bunch of songs, you deserve much more and Demonbreed will give it to you. Enjoy the hypnotic riff in the middle of "Suprema" when it bursts into an inspired and sublime guitar solo. That's what I call finesse. By the way, I haven't forgotten title track, I'll let you take your own conclusions.
"Hunting Heretics" is the album if you want something else.
Demonbreed "Hunting Heretics" will be released on December 14th via Testimony Records.
Track Listing:
Fear the Verdict
Deadly Superstition
Confessions in Fire
Suprema
Hunting Heretics
Watch "Hunting Heretics" official video here: