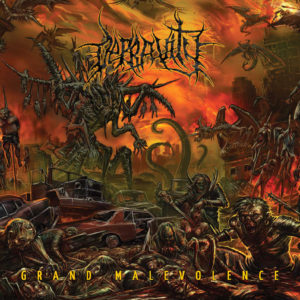 One more band the we have the pleasure to reaview a following album and check out what happened to the band in those two year hiatus. The first was 2018's "Evil Upheaval" an album with a raw and complex content at the same time. Depravity really knew how to combine aggression with a finesse and the outcome was unique. Now it's the time to review "Grand Malevolence" the new album of the technical brutal death metallers. Well, for change's sake, the band hasn't changed a bit from the previous album. "Grand Malevolence" is a follow up of  "Evil Upheaval" and I guess, if that is even possible, this album is even more putrid and raw with a level of heaviness that many don't believe it's possible to reach.
When I talk about complexity I guess that many will think of Prog Metal bands or Symphonic which tipically have a higher level of complexity in song writing. But Depravity is just another thing really out of the leagues. As a former musician, I know how hard it is to mix speed and velocity with complex structures. The faster you play, the more simple the structures must be as if there is a limit for them. But somehow Depravity got to change it upside down. On the other hand, it is also funny to think of the existing relation between the band name and its genre. From a band called Depravity one expects a raw and brutal Death Metal. In this case, it is what one gets. No more, no less. I insist a lot in this idea. Band names, in general, follow their genres. Of course, as usual, there are exceptions to the rule.
It's very hard to pick the songs here to talk about them. "Grand Malevolence" is a monolithic album for the better and the worse, it depends on the fan. I'm not really the most devoted fan of brutal Death Metal, but I do appreciate and respect a band that as Depravity for their honesty and staright ahead prowess. Such bands do a lot for Metal music.
Depravity  "Grand Malevolence" will be released on December 04th via Transcending Obscurity Records.
Track Listing:
Indulging Psychotic Thoughts
Grand Malevolence
Invalid Majesty
Cantankerous Butcher
Trophies of Inhumanity
Castrate the Perpetrators
The Comming of the Hammering
Barbaric Eternity
Hallucination Aflame
Epitome of Extinction
Ghosts in the Void
Watch "Grand Malevolence" official video here:
997