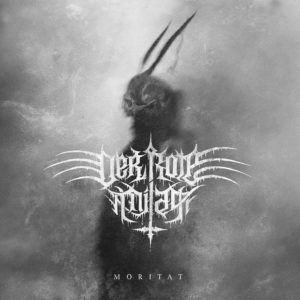 Do you remember what I call deceptive sequence? If you don't, let me refresh your memory. I call deceptive sequence when the song leads to a musical deception. How so? When it starts one way and it ends otherwise. That's what happens with the very first beginning of Der Rote Milan "Moritat" in its first song "Die Habsucht" and its sweet fingered acoustic part to then fall into a musical carnage dressed as a fierce Black Metal sonorous mass. This will happen again around the fourth minute, but it doesn't surprise anymore. "Die Habsucht" is a track with many twists reinforced by an eerie vocal.
Well, the rest of the album won't be any disappointment to you that appreciate the most visceral and raw Black Metal because this is what Der Rote Milan have to offer. Is that all? No, not at all. Being fair with Der Rote Milan this album offers much more. "Moritat" dives into old school Black Metal and that means that tracks are full of extreme high-velocity drumming with a wrathful and angry voice. In fact, if we come to think of it, "Gnosis der Vergaenglichkeit" does the same as "Die Habsucht," but a little longer with a slow and emotional guitar solo embellished by the crescendo effect of crash cymbals. What breaks the delicate texture of "Gnosis der Vergaenglichkeit" is the eerie vocal which gets more raspy. Pay attention the the exquisite drumming throughout it. It sounds that drummer has lost tempo or, yet, he's playing anything but the right tempo in the song. The effect is majestic and helps create an atmosphere of a chaotic and dissonant sequences. Have you ever heard about free jazz? Well, this drumming is very near it. It's the guitar which holds the tempo marks. Not usual in Metal, if I have to say it.
Based on those tracks, I have to admit that "Moritat" is a surprising album and keeps surprising you in every track as we can see by "Der letzte Galgen" and its delicate textures plus the eerie vocals and a neat instrumental. This time the drumming is more conventional for a chance. Der Rote Milan give their best to surprise us in each track, and come on, that's not an easy thing to fulfill? Or am I wrong?
Der Rote Milan "Moritat" will be released on February 01st via Unholy Conspiracy Deathwork.
Track Listing:
Die Habsucht
Drohende Schatten
Gnosis der Vergänglichkeit
Der letzte Galgen
Der Findling
Moritat
Watch "Die Habsucht" official video here: