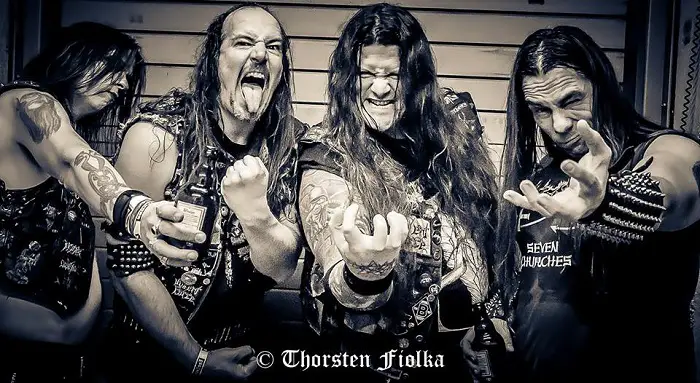 German Black Thrashers DESASTER have scheduled their new album "THE OATH OF AN IRON RITUAL" for release April, 8th through Metal Blade Records.
You can watch the live video for "Damnatio Ad Bestias" below.
The video has been filmed by Visions In Fear and directed by Oliver "Bomber" Barth at the DESASTER show in Bamberg, Germany a few weeks ago.
"THE OATH OF AN IRON RITUAL" will be released as a limited Digi-CD and on all digital outlets.
With their eighth studio album "THE OATH OF AN IRON RITUAL", DESASTER stay true to the uncompromising manners they have always represented. This time around they recorded together with Patrick W. Engel in their own rehearsal space, which took just a couple of days in October but did not hurt the sound one bit – on the contrary, but listen yourselves!
A barrage of metal without compromises that will easily split skulls everywhere. Prepare for cutting riffs, pummeling drums, a growling bass and hellish screams!
"THE OATH OF AN IRON RITUAL" track listing:
1. Intro (The Oath)
2. Proclamation in Shadows
3. End of Tyranny
4. The Cleric's Arcanum
5. Haunting Siren
6. Damnatio Ad Bestias
7. Conquer & Contaminate
8. The Denial
9. The Oath of an Iron Ritual
10. At the Eclipse of Blades