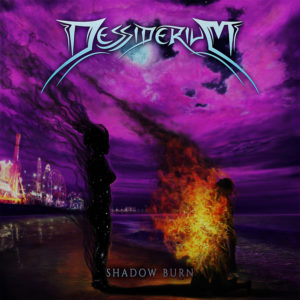 This is an album that achieves a very difficult goal that is combine with the same balance Old School Extreme Metal with Symphonic and some Modern Metal features. Hardly ever I've seen here a band that could do that with such mastery and prowness. "Shadow Burn" is not an album that impresses at the first listening. It is an effort made to a slow fruition of all tracks. It's a mind album that invites the fan to a slow and careful listening. For instance, the difference between the first, and title, track "Shadow Burn" to the second "Mother" is rather impressive. While "Shadow Burn" sounds pretty much standard Extreme Metal with touches of Black and Death Metal, "Mother" has some moody 1960s vocals that change all the game giving it a remarkable contrast. There are also some piano passages that give the song the Progressive Metal touch Dessiderium are looking for. 
I'd say that this album is perfect choice to show that friend of yours who is about to Extreme Metal due to the combination of ups and downs of heaviness and progressive touches. A person that is not used to the regular, and needed, aggression and punch of Extreme Metal will appreciate these contrasts. Well, at least I believe so. I might be wrong, if you ask me. But I guess the fan will be atracted to tracks as "Soul Bursting" and its creative and rather shredding guitars as "Shadow Burn" isn't an album of shredding, the occasional shredding gives it a nice touch. But, from where I'm standing the best thing of this album is the contrast it explores. Its diversity of moods and atmospheres kind of attracts fans like me who are bound to the backs and forths of music. "Streaks" is a track that explores pretty well these backs and forths with lots of melodic and beautiful passages with an angry and wrathful, yet full of sorrow vocals. Sorrow is also an emotion that Modern Metal understand pretty well, if you ask me.
Exploring human emotions is a thing that Metal bands have learned to do with great skill. Metal isn't a genre where easy emotions flow easyly, on the contrary, it is a genre that invites the fan to feel what he doesn't want to feel. Metal explores the undesired, the unexpected. That's why it attracts so some people who try to get from the usual subjects of other genre's. Dessiderium do that pretty well in this "Shadow Burn."
Dessiderium "Shadow Burn" was released on June 25th.
Track Listing:
Shadow Burn
Mother
Soul Bursting
Streaks
Cosmic Limbs
Serenica
Sage in Yeaming
God's Throat
Watch "Soul Bursting" official video here:
922