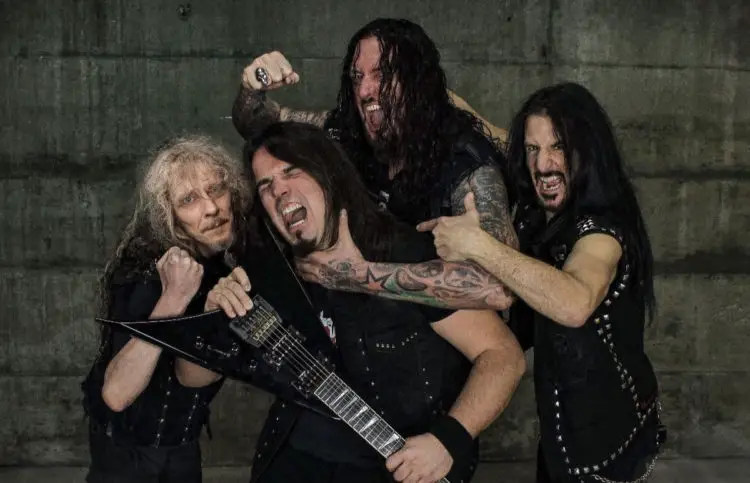 Today, the giants of german Thrash metal release their all-new live-album "Born to Thrash – Live in Germany" and bring back the festival sommer to you. Singer and bassist Schmier calls it the "most spontaneous idea, we ever realized." DESTRUCTION's last Party.san show was recorded spontaneously and now all fans get the chance to see and feel DESTRUCTIONs live power!
Schmier states,
"The most spontaneous release in our history is finally out now. It presents the new line up in a very pure and raw way! A live album is nowadays kind of out of fashion, but this one might save the future of our band!

I wanna say thanks to ALL those who supported the unconventional idea of survival. We are gonna look back at this release in some years with a different perspective and gratefulness! Thanks a lot for the support & stay safe!"
The band grants you a special surprise within the digipak and vinyl-version in black, red, transparent and picture vinyl: a world map, the fans named the destination of their very first DESTRUCTION live experience in a previously launched campaign. So all fans are part of DESTRUCTION's new live record released today.
Order "Born To Thrash – Live In Germany" here:
https://nblast.de/Destruction-BTT
Download/ Stream it here: https://nblast.de/Destruction-BTTDigital
"Born to Thrash – Live in Germany" tracklist:
1. Curse The Gods
2. Nailed To The Cross
3. Born To Perish
4. Mad Butcher
5. Life Without Sense
6. Betrayal
7. Total Desaster
8. The Butcher Strikes Back
9. Thrash Till Death
10. Bestial Invasion
Tourdates 2020:
Destruction 2020 UK & EU Tour
(w/ WARBRINGER, CRISIX, DOMINATION INC.)
28-Nov-2020 Waregemse Metal Day – Waregem Belgium (DESTRUCTION & WARBRINGER only)
29-Nov-2020 Dynamo – Eindhoven Netherlands
30-Nov-2020 Kesselhaus – Wiesbaden Germany
02-Dec-2020 The Dome – London UK
03-Dec-2020 Academy 3 – Manchester UK
04-Dec-2020 Dolan's Warehouse – Limerick Ireland
05-Dec-2020 Voodoo Lounge – Dublin Ireland
06-Dec-2020 Slay – Glasgow Scotland
08-Dec-2020 Petit Bain – Paris France
09-Dec-2020  Santana 27 – Bilbao Spain
10-Dec-2020 RCA Club – Lisbon Portugal
11-Dec-2020 Sala But – Madrid Spain
12-Dec-2020 Salamandra – Barcelona Spain
13-Dec-2020 Le Grillen – Colmar France
15-Dec-2020 Bi Nuu – Berlin Germany
16-Dec-2020 U Bazyla – Poznan Poland
17-Dec-2020 Vaudeville – Lindau Germany
18-Dec-2020 Legend Club – Milan Italy
Read our review here.