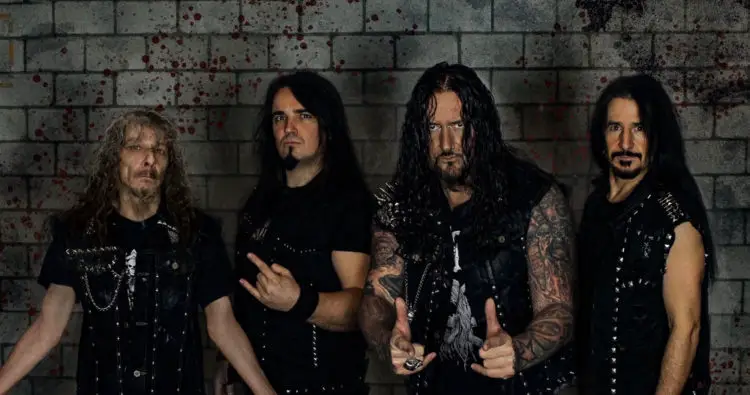 Legendary German thrashers, DESTRUCTION, are set to unleash their 17th studio album, Born to Perish, on August 9th, 2019 via Nuclear Blast Records. Today, the band has unleashed the visualizer video for the first single and vicious title track, "Born to Perish." Watch the clip below.
Frontman Schmier states: "The title track was the first song we wrote for the new record and it definitely shows the strength that DESTRUCTION has in 2019. It immediately set the bar high for the rest of the album. It features everything that we stand for: speed, picking, variety and punch. Randy came up with some very cool drum patterns and Damir offered up a really crunchy solo part, so both new members are heavily involved here!"
Guitar player Mike adds: "We started the song with some drum patterns that Randy gave us and adjusted some riff ideas we had. It was a nice challenge to write some tight right hand picking for a 212 beats per minute song. As a guitar player this is close to my speed limit, especially on the triplets – great fun to play though!"
Born to Perish track listing:
01. Born To Perish
02. Inspired By Death
03. Betrayal
04. Rotten
05. Filthy Wealth
06. Butchered For Life
07. Tyrants Of The Netherworld
08. We Breed Evil
09. Fatal Flight 17
10. Ratcatcher
Bonus:
11. Hellbound
The recordings for Born To Perish took place from January to March 2019 in the Little Creek Studio in Switzerland under the aegis of long time intimate VO Pulver.
The brand-new line-up featuring the Canadian drum animal Randy Black and Swiss shred-master Damir Eskić, together with veterans Schmier and Mike, is here to bring you musical destruction. This is a new chapter in the long, impressive history of the band.