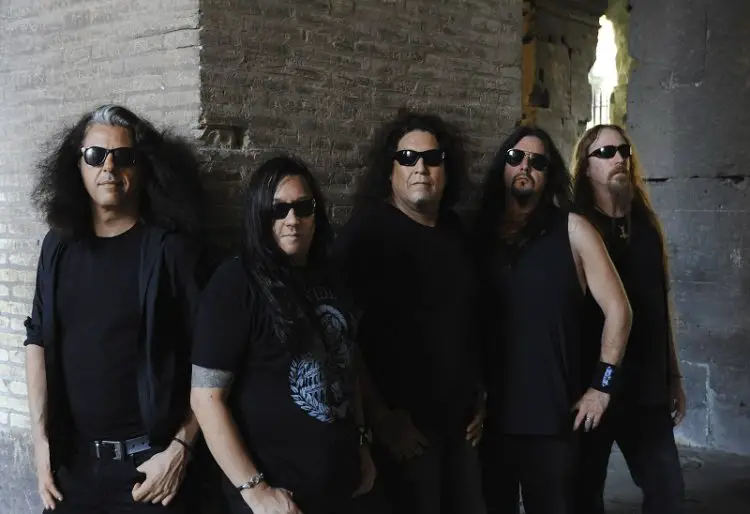 A product listing on Apple.com has revealed that TESTAMENT's new album is entitled Titans Of Creation and it will be available April 3 via Nuclear Blast Records.
The cover artwork for Titans Of Creation was created by artist and longtime collaborator Eliran Kantor, who has previously worked with ICED EARTH, SODOM, HATEBREED, SOULFLY and THY ART IS MURDER, among many others.
Track listing is as follows:
01. Children Of The Next Level
02. WWII
03. Dream Deceiver
04. Night Of The Witch
05. City Of Angels
06. Ishtars Gate
07. Symptoms
08. False Prophet
09. The Healers
10. Code Of Hammurabi
11. Curse Of Osiris
12. Catacombs
A snippet of the song "Night Of The Witch" is available on Apple.com.
Chuck Billy recently spoke about the musical direction of new album with Heavy New York: "You're always trying to top your last record, and I thought Brotherhood, up to that point, was a pretty strong record. This one, it definitely stands on its own — all the songs have their own identity. Eric [Peterson] somehow came up with a way to make it be TESTAMENT but feel fresh and new still TESTAMENT, so that's pretty awesome."
"It was a quicker process than the last time, but I think at the end, the mix is awesome, the songs came out awesome, and the process wasn't as painful as it was the last time," he continued. "So, it's a good record. I can't wait for everybody to hear it."