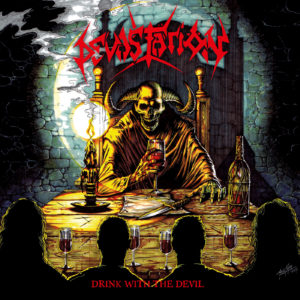 A sonic devastation! The sonorous breakdown! A blast that comes into your years and make you bang your heads all the way! That urge to mosh!
I introduce you Devastatiön and "Drink With The Devil." A pure piece of how Metal can be of a pure destructive urge. Social criticism rocked by a sonic mass of angry Metal forces. "Drink With The Devil" is only five tracked, but the pouding is enough to please. Devastatiön are a band with lots of hardcore influences. Right-in-the-face fast and furious music. The way Metal has to be.
Devastatiön and "Drink With The Devil" defy the speed of light to bring us the finest. Just listen to "Reborn Through Fire" to check out how Devastatiön teach us a lesson of how speed can still prevail. Punk influences are clear not only on lirics, but also on the cadence of songs. The drumming goes from simple punk beats to modern double bass. "Society Will Die" has a kind of martial cadence that features all the anger that Devastatiön desire to show. "Drink With The Devil" is an effort full of angry, no doubt about it. Hence, it's the beauty of it. Anger is the driving force of Metal. My best shot here is the first track, "Drink With The Devil." I like the speed and the aggression. Killer guitar fast riffs in the best teutonic speed metal tradition. And the singer that sounds like an even angrier Accept's Udo Dirkschneider.
The point is simple: we need more bands Devastatiön. We need more bands that say that our society is sick. Or maybe, if we don't straight up soon, we're gonna have a "Drink With The Devil" ourselves. What are we gonna do?
Track Listing:
Drink With The Devil
Defillement
Reborn Through Fire
Raped By God
Society Will Die
Devastatiön will have a "Drink With The Devil" on November 11th via Empire Records.
Watch "Set To Kill" official video here: