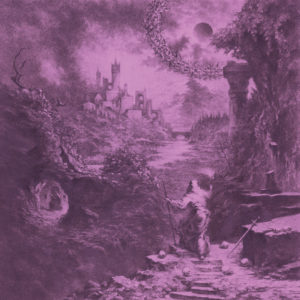 Says who extreme Metal can't be exciting and thrilling and yet with a bit of devilish joy? Says who the drumming has to be tight and straight with no fun in it? Says who the guitarists have to be the master of the universe of shredding to make striking music with interesting and defying riffings? Says who the opening track has to be the most serious and defying track of the album?
Too many questions for only one answer. NOBODY DOES. As said once and a million times there are no rules for Metal music only to be Metal. My dear, and loyal, fan knows that Metal accepts nothing but Metal attitude.
Ok, then, so we can talk about this precious gem of early Black Metal that reminds me a lot Tormentor with the same exciting drumming and cadence that give Devil Master their unique sonancy – an extremely rare thing to find these days. "Ectasies of Never Ending Night" is a precious gem of an accelerated cadence with a Punk Rock topping. Yeah, Punk Rock. And that's the trait that makes it so different. Hardcore is always noted in Extreme Metal but not Punk Rock. Hardcore drumming is drier and tight, Punk Rock has some groove in it though it's straight as well. The nieve guitar does the trcik as well. It's a funny thing to tell that a nieve guitar playing can be so attractive but it's the shocking truth. It does make a difference. The sollutions found happen to be more exciting and inspired that the average. I can't exactly tell why. Maybe that's because the playing gets so tasty here.
Musicwise "Ectasies of Never Ending Night" follows the simplest rule in Metal music: to be heavy and fast. That's what happens here from head to toe. From openig track "Ecstasies…" to grand finale "Ectasies of Never Ending Night" speed rules. But not that useless and meaning speed that means nothing pnly speed. The speed that makes our music fantastic and exciting. That speed that makes the Metal fan bangs and mosh. That's what I'm talking about. By the way, the grand finale "Ectasies of Never Ending Night" changes a little bit the atmosphere of the album with its gothic textures that reminds a lot The Cult. A track that sounds modern and classic at the same time.
"Ectasies of Never Ending Night" is an album that addresses the fan to a far long time in the past of Metal music. No problem at all with that. We metallers know that our past is glorious to say the least.
Devil Master "Ectasies of Never Ending Night" was released on April 29th via Relapse Records.
Track Listing:
Ecstasies…
Enamoured in the Throes of Death
Golgotha's Cruel Song
The Vigour of Evil
Acid Black Mass
Abyss in Vision
Shrines in Cinder
Funerary Gyre of Dreams & Madness
Precious Blood of Christ Rebuked
Never Ending Night
Watch "Acid Black Mass" official music video here: