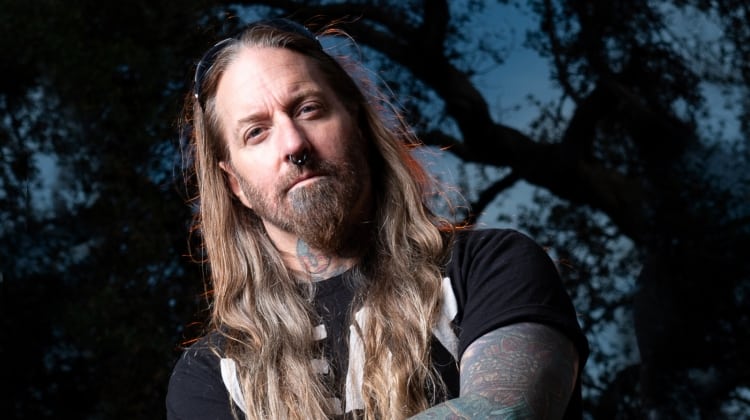 Dez Fafara reveals that DEVILDRIVER is unable to perform at this year's UK Bloodstock Open Air festival due to health complications stemming from his COVID-19 struggle.
Fafara clarified DEVILDRIVER's choice to withdraw from the festival after the news broke that his other group, COAL CHAMBER, would be touring with MUDVAYNE this summer.
Dez released the following statement via the Bloodstock Open Air social media, which reads:
"Hello Bloodstockers, this is Dez from DEVILDRIVER.
"In 2021, I came down with Covid which left me with heart problems. I had to live downstairs in my house, as I could barely walk more than a few feet without collapsing. I, in fact was saying goodbye to my family at the time and didn't think I would pull through.
"I took 2022 off and very slowly started to walk one block, then two blocks, and had to fight my way back very hard – it took me 14 months to get to a point where I could perform again on stage.
"My cardiologist (who saved my life) has asked me to not take any long flights this year at all as we monitor the situation. It has been a very long road for myself and my family, but am returning to form. Even on tour [in the U.S.] now with DEVILDRIVER, I must do the show, then go straight to my bunk to rest, as I still have inflammation in my lower heart and it's that what's preventing me from taking flights overseas. So it is with the heaviest of hearts that DEVILDRIVER must pull down our long awaited Bloodstock performance. I am sorry if this causes any inconvenience and I hope within the next 12-24 months to get the all clear from my doctor to fly and tour overseas.
"I want you all to know it's thinking about touring, being on stage again, and playing music that's actually helped me to survive this.
"I love you all please be good to each other and I'm grateful for any prayers you can send our way as they will certainly be well received. We certainly would not be pulling out had health not come into play.
"We sent Bloodstock a mail regarding this a little ago, but due to us being on a tour bus, we have now realized it went to our outbox and had not sent, so that's where the confusion is with COAL CHAMBER announcing US shows at that time. We see Bloodstock as extended family to us and feel horrible our mail didn't get sent.
"Stay blessed, Dez Fafara."
DEVILDRIVER will release their new studio album, Dealing With Demons Vol. II, on May 12 via Napalm Records.