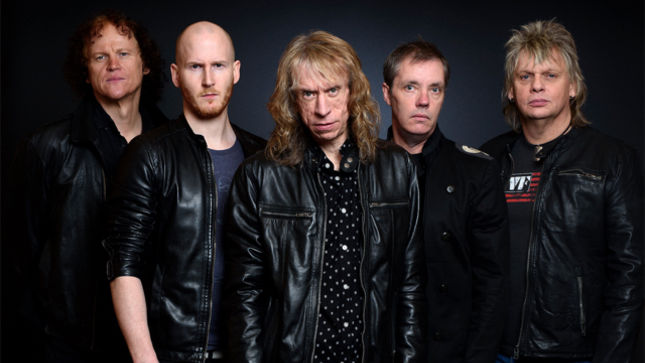 Seven albums into a career that spans four decades with album number eight already in the can, New Wave of British Heavy Metal legends DIAMOND HEAD will be embarking on a European Tour this October – November 2018.
Following the release of their self-titled new studio album in 2016 the band supported this release with extensive touring of the United States, Canada, UK and Europe which included festivals like Bang Your Head, Bloodstock Open Air, Sweden Rock, Rock Hard, Stormcrusher, Pyscho- Las Vegas, Leyendes Del Rock, Metal Days, Hard Rock Hell. The band continue to be creative and spent much of 2017 writing and recording songs for their next album to be released later this year. DIAMOND HEAD were a major influence on bands like Metallica and Megadeth with Metallica covering four DIAMOND HEAD songs including the classic "Am I Evil?" Which has sold around 10,000,000 copies and is available on eighteen different DIAMOND HEAD releases. Plus "Helpless", "The Prince" and "It's Electric". Over the years DIAMOND HEAD have toured with AC/DC, Black Sabbath, Megadeth, Metallica, Thin Lizzy and most recently Saxon in February 2018.
This upcoming EU Tour organised by Agentur – EAM will see DIAMOND HEAD performing in 8 countries and 22 cities across central and southern Europe. For more information including ticket pre-sales and selling points in your city follow DIAMOND HEAD online.
Dates can be seen below.
25/10 – LITTLE DEVIL – TILBURG (NL)
26/10 – PODIUM DE FLUX – ZANDAAM (NL)
27/10 – ROXY CONCERTS – FLENSBURG (DE)
28/10 – BAMBI GALORE – HAMBURG (DE)
29/10 – MATRIX/ROCKPALAST – BOCHUM (DE)
30/10 – 7ER CLUB – MANNHEIM (DE)
31/10 – MOONLIGHT MUSIC HALL – DIEST (BE)
01/11 – LINDENPARK – POTSDAM (DE)
02/11 – KWADRAT CLUB – KRAKOW (PL)
03/11 – HYDROZAGADKA CLUB – WARSAW (PL)
04/11 – U BAZYLA CLUB – POZNAN (PL)
05/11 – COLLOSSEUM CLUB – Košice (SK)
06/11 – DURER KERT – BUDAPEST (HU)
08/11 – VIPER ROOM – VIENNA (AT)
09/11 – EXENZIA ROCK CLUB – PRATO (IT)
10/11 – SLAUGHTER HOUSE – MILAN (IT)
11/11 – JAILBREAK – ROME (IT)
12/11 NOVEMBER – PADIGLIONE14 – TURIN (IT)
14/11 – SALA BOVEDA – BARCELONA (ES)
15/11 – SOUND STAGE MADRID (ES)
16/11 – URBAN ROCK CONCEPT – VITORIA (ES)
17/11 – SIR LAURENS – OVIEDO (ES)
18/11 – C.C. VALDEFIERRO – ZARAGOZA (ES)
UK TOUR ONLY
OCTOBER 2018
05/10 – NEW CROSS INN – LONDON*
06/10 – THE ROBIN – WOLVERHAMPTON*
07/10 – MUNI ARTS CENTRE – PONTYPRIDD
09/10 – CLUB ROCK – CARLISLE
10/10 – ELEVEN – STOKE ON TRENT
11/10 – AUDIO GLASGOW – SCOTLAND
12/10 – KRAKATOA – ABERDEEN – SCOTLAND*
13/10 – LA BELLE ANGELE – EDINBURGH
14/10 – FACTORY MCR – MANCHESTER
17/10 – THE 1865 – SOUTHAMPTON
21/10 – FROG & FIDDLE – CHELTENHAM*