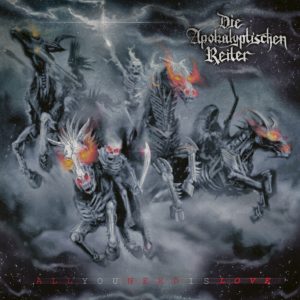 There are reviews that come already done even for knowing the band or the opposite. Sometimes it is by something in the album that sparks the attention. Here what sparked the attention was the name of the album. "All You Need Is Love" is the name of one of the most known and appreciated songs of a band that is responsible for us being listening this kind of music today: The Beatles. A band that shaped popular music in a way that it's undeniable not to quote their influence and importance even in Extreme Metal music. From where I'm standing I find it important to explain the fan the processes of writing a review because I think it makes us approach. And, in fact, because it shows us reviewers common human beings as everybody else with flaws and all. It's good to give an idea that sometimes reviews are kicked off by weird and poor thoughts. This one began with me wondering if Die Apokalyptischen Reiter – a band that I don't know and have never heard about – were doing some kind of homage to the song or else. Yeah, I know I was flat wrong, but things are what they are. That out, let's go the album, shall we?
First of all, Die Apokalyptischen Reiter "All You Need Is Love" impresses because twenty years ago the band was doing everything, and I really mean everything, Extreme Metal bands are doing now. Sometimes I come to think – and to regret – how is it possible not to have heard about them before. This album is clearly a breakthrough album for everything that is in here. The mix with classical music, the use of exquisite instruments, the breakdowns, the use of different kind of vocals among the range of clean and imposed to desperate death growls, and many other things that are madatory today if a band wants to impress.
Second, the beginning of the album isn't that promising in the first minute. "Licked by the Tongues of Pride" until its first thirty seconds is very standard, however things have a violent plot twist from it on. The song changes of heart so many times and in a so unexpected way that it is really hard to tell them all. There are so many changes in it that the fan may think the song has finished and it's the following. It's not only the common change of tempos, the famous breakdowns, but the addition of unsual – at that time – features. "Unter Der Asche" is the oppostite. Its beginning is different with some slow and mellow melody that changes suddenly to a frentic and desperate Extreme Metal piece. In the midst, Die Apokalyptischen Reiter added some other textures brought from the classical music tradition. This gives an entire different motion to the song which follows its predecessor in terms of changes. The frentic tempo of it reminds a little Soad's B.Y.O.B. The feeeling of despair is the same.
Third, I could go on and on telling all the changes and plot twists Die Apokalyptischen Reiter "All You Need Is Love" has. Believe me there are so many. This album is one of those which can be said that to be perfectly fresh even twenty years have passed away. Worth it every minute. Every Extreme Metal band in this sad and lonely and pathetic little world should listen to this album.
Die Apokalyptischen Reiter "All You Need Is Love" will be re-released on March 19th via Nuclear Blast Records.
Track Listing:
Licked by the Tongues of Pride
Unter Der Asche
Erhelle Meine Seele
Gone
Regret
Reitermania
Hate
Peace of Mind
Geopfert
Rausch
Die Schönheit Der Sklaverei
Vom Ende Der Welt
Watch "Licked by the Tongues of Pride" video here: