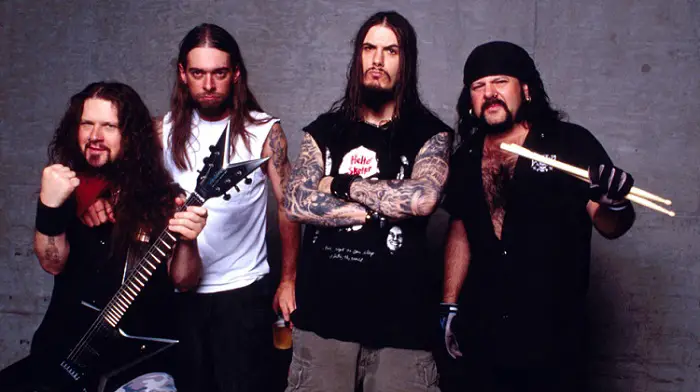 Daryl "Bobby Tongs" Arnberger, longtime videographer for both PANTERA and DAMAGEPLAN, has revealed in a new interview with the Landry.audio podcast that "Dimebag" Darrell Abbott told him he was going to do "whatever it takes" to reunite PANTERA just a month before his death.
The last time I saw him was in November of 2004," Daryl said. "I was about to go back out with SLIPKNOT or [MARILYN] MANSON, one of the two. And I went over to his house. I was just talking to him briefly about everything. He was, like, 'We're gonna go out and do this [DAMAGEPLAN] tour through December, and I'll see you for Christmas and everything.
"After that, we're gonna have some new sh*t going on. And it's not gonna be this. Whatever it takes, we're gonna get these guys back together and do it right.' … He was saying he was gonna do everything he could. He was pretty much done with what they [DAMAGEPLAN] were doing at that point. He wanted to move on and go back to PANTERA."
When asked what it was about DAMAGEPLAN that was irking Dimebag shortly before the band's final tour, Arnberger responded: "He didn't think the other guys were as into it. He obviously didn't feel the magic as much as he did with the other two guys," presumably referring to Anselmo and PANTERA bassist Rex Brown.
Vinnie Paul and Dimebag co-founded PANTERA. When PANTERA broke up in 2003, they formed DAMAGEPLAN. On December 8, 2004, while performing with DAMAGEPLAN at the Alrosa Villa in Columbus, Ohio,  Dimebag was shot and killed onstage by Nathan Gale. He was 38 years old.
On June 22, 2018, Vinnie Paul died at his Las Vegas, Nevada home, at the age of 54. It was later revealed that Abbott had died from a "dilated cardiomyopathy and coronary artery disease."