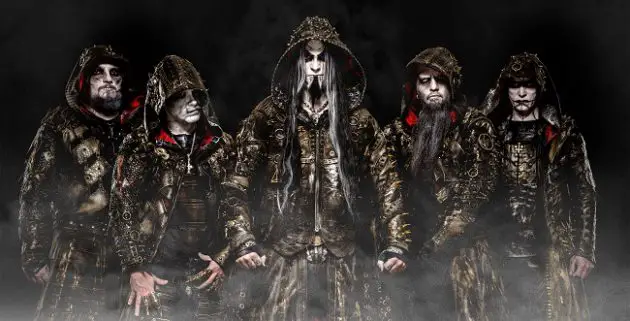 DIMMU BORGIR guitarist Silenoz recently spoke with "The Unchained Rock Show". A few excerpts follow (as transcribed by Blabbermouth.net):
On the group's forthcoming new album, "Eonian":
Silenoz: "There's not a concept per se, but if you look for a thematic thread, you can find it. Not to talk too much about the lyrical content, but it is about walking the plank into the metaphysical abyss. That gives you some imagination, I guess [laughs]… I wouldn't say that [any] of us are getting direct influence from anything. It's just there, and it comes and goes, and we try to take advantage of it when the inspiration periods are there. I think that's partly why we feel strongly about the new album, because we managed to get a lot of stuff done while we under these inspirational periods. I guess we're more disciplined than earlier, although seven years doesn't seem like it. [Laughs]"
On that seven-year gap between studio albums:
Silenoz: "[Bloodstock] was one of the last shows we did in 2014, and after that, we took a break like we usually do after every touring cycle, but this time, it was a bit longer than expected, I guess. We have been trying to keep a low profile on purpose, and we've been working on and off with material since 2012, basically. We have other stuff in our lives, too. The three of us have become fathers again, and you get different perspective, and we also felt the need to kind of regroup and start with a blank page, start from scratch. Before you know it, time flies by. Then we also had some delays with the ['Forces Of The Northern Night'] DVD, which we didn't want to have too close to the new album release. I could find some more reasons, but they're just going to sound like excuses [laughs]."
On fatherhood:
Silenoz: "I love it. I always wanted to be a father, and I'm so fortunate to have the best son. I'm really grateful, and it's a revelation becoming a father, because when I was younger, I felt like putting a child to this world is a very egotistical thing. But once you become a father, it's the total opposite. It's not about you anymore — it's about him or her."
On the group's writing process:
Silenoz: "We have different tastes in music, and we like different stuff, but we also have something in common. Once we get together and pull our ideas into the DIMMU pot, so to speak, something magical happens. It's just something that you can't really describe. It's a feeling. I think the best way to describe DIMMU's music is, it's the atmosphere, it's the feeling."
On whether the group feels any pressure to live up to expectations:
Silenoz: "I think the expectation that we feel is from ourselves first and foremost. We've also been the type of band that always wanted to go out of the comfort zone, and that's the way to progress. Inevitably, with that, we also challenge the listener and the fan, too. I'm sure that with the new album, if you haven't liked DIMMU before, I doubt that people will like it now, but I think we will gain a lot of new fans. There's almost a new generation since the last album, so that's going to be interesting to see."
On DIMMU BORGIR lasting for twenty-five years:
Silenoz: "It doesn't feel that long, to be honest. I think the reason why we still feel relevant and that people are still interested in following us is that we are a type of band that sacrifices anything for the art. That gets harder and harder when you become a parent and stuff like that, but still, we know what it takes to do what we do on this level. Anything for art, and it's good to see the progress from the tiny little start of the band, and you can follow it through each album to see where we're at today… When we started the band, we didn't really have an ambition. That came as we went along. As long as we feel that we have something really special to deliver and we feel we are relevant still, then we will release music. Hopefully we won't spend seven years for the next album, but the thing with this new album was that early in the process, we felt like, 'Okay, we just have to take the time it takes to finish.' It's pointless if we try to control it or if you try to put a deadline on it. It just doesn't work with art — it has to run its course. We could have easily written 'Enthrone Darkness Triumphant'number two in a matter of a really short period of time, but that's not what we are about."
You can listen to entire interview below.