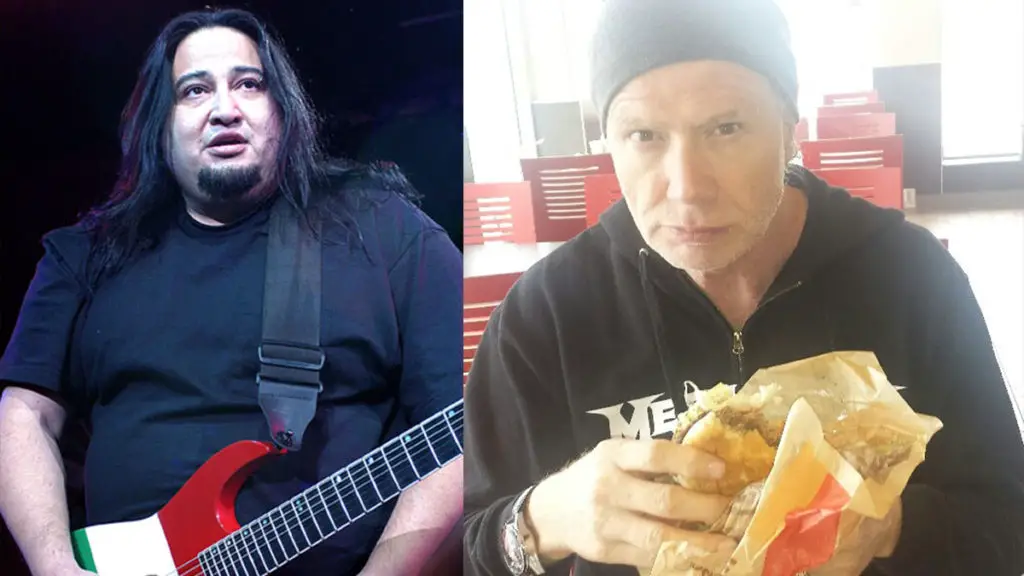 During a recent appearance on "Speak N' Destroy," FEAR FACTORY guitarist Dino Cazares looked back on his teenage years and the unusual way he met MEGADETH mainman Dave Mustaine.
Dino said that encounter took place when he was 18 years old and working at a sandwich place called Togo's Eatery.
"Dave Mustaine walked in, I was working at night," Dino said. "He came, walked in, so I had more time to talk to him because I wasn't working that busy, rush-hour lunchtime, so I had more time to talk to him. He came in, and I was like, 'Oh my god, f*cking Dave Mustaine!' I was freaked out. I think he had just left METALLICA, and I think that was just before [1985's] Killing Is My Business, I want to say about '85, I'm not sure what year that record came in.
"But it was just before that came out," he continued. "And I started talking to him, and I gave him free food and free beer. He was very appreciative, he actually sat in the place and ate it, ate the sandwich, so I go like, 'Maybe I should ask him questions.'
"Here I am, I'm 18 years old, and I was like, 'I need some advice. How do I start a band? What to do?' And so he actually gave me a lot of advice, believe it or not. He taught me how to network, he told me how to go to shows and try to talk to other musicians, and just try to network. He also told me about this thing called the Music Connection, where bands used to put in their ads, say they're looking for a band, stuff like that.
"So he turned me on to that, and then I turned him onto — because he was selling weed at the time — I turned him on to my sister. My sister used to buy weed from him, so we kind of had a little thing going on."
"The cool thing about it was that he actually, when Killing Is My Business came out, they were doing shows in L.A., and he actually put me on the list. I'd go backstage on one of the shows, and he introduced me to a few people," he added. I would see him periodically over the years. So, 1985, fast-forward 10 years to 1995, we get a tour, that's our second record Demanufacture, Dave Mustaine brings us on the tour, so it's MEGADETH, FLOTSAM AND JETSAM, and FEAR FACTORY opening up.
"And so the first day, I was telling everybody in the crew and everybody, 'Yeah, I bet you Dave Mustaine got us on the tour because he remembers that I gave him sandwiches back in the day and he's returning favors.'
"We all walk into the venue, we see Dave, I go, 'Dave, Dave.' He's looking at me, and he didn't know who the f*ck I was. I go, 'Dave, hey, man, remember me? I used to make you sandwiches and stuff like that.' He looks at me, you could see his brain working, and he's like, 'Oh yeah, man. Make me a sandwich.' And then he walked away.
"And everybody in my band and crew, they were all laughing at me. It was a really good tour, but that was a really embarrassing moment for me. I was bragging about it, and he's just, 'Yeah, man. Make me a sandwich.' [MEGADETH bassist] Dave Ellefson remembered, I think he was the one who probably wasn't on all the drugs."