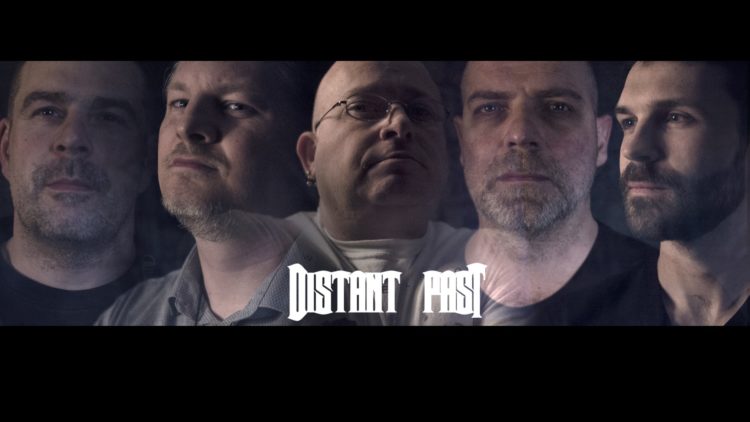 The two Distant Past musicians Adriano Troiano (bass & conception) and Jvo Julmy (vocals) were amazed when Rock Hard magazine highlighted the album "Rebels of our Time" by Emerald as an essential work in their article about the best Swiss bands of all Time.
Both understood that they have been making music together for almost 20 years now and that they have a certain legacy to defend.
After many contributions by journey men and close friends, the former studio project would be presented live for the first (and presumably) only time in 2016. Selections of all three previous efforts were played ["Alpha Draconis" (2010), "Utopian Void" (2014) and the conceptual tour-de-force Album "Rise of the Fallen" (2016), the latter features guest vocals by none other than "Agnus Mc Five" (Gloryhammer)]. Adriano used to play along Agnus in Emerald when the latter replaced Jvo in 2013.
Distant Past morphed into a full-blown Band. Joining Adriano and Jvo is Ben (Age of Disclosure) who worked with both for his project and adds his precise and innovative guitar playing to the band. In Remo (ex-Suborned) the band found a well-educated and steady drummer, who was looking for a new band, to start rocking out again. The last piece of the Puzzle was the addition of Lorenz Laederach on guitars, fulfilling his boyhood dream to join a Metal Band, having previously played various styles like reggae. He convinced the guys of his talents with his amazingly fast and aggressive playing and his awesome guitar solos.
Tracks like "Staring At The Stars" and "I Am Omega" show a new style for the band, back to the roots of Hard Rock. Gone are the progressive influences (only reminiscent in the 7 minute piece "Dawn City"). Distant Past still rock hard and true. Listen to "Kill the Dragon" for proof. Want some Maiden-Priest stuff? How about "The Power of Evil" or "Fall from Glory," double lead guitar attack, "halfordian" vocals and pumping' bass included, as well as innovative drumming. Let's put it this way – Distant Past are a force to be reckoned with and soon they will melt your brain on a stage near you! Look out!
Artwork by  Aurora Award Winner James F. Beveridge
(Am I Evil: The graphic Novel / Victor Peraino's Kingdom Come )
The release date of the of the new album "The Final Stage" on CD via PURE STEEL RECORDS is March, 26th , 2021. The pre-order phase will start on 12.03.2021.

Band Line-up:
Jvo «Jay Jay» Julmy – vocals
Adriano Troiano – bass
Ben Sollberger – guitars
Lorenz Laederach – guitars
Remo Herrmann – drums
Read our review here.