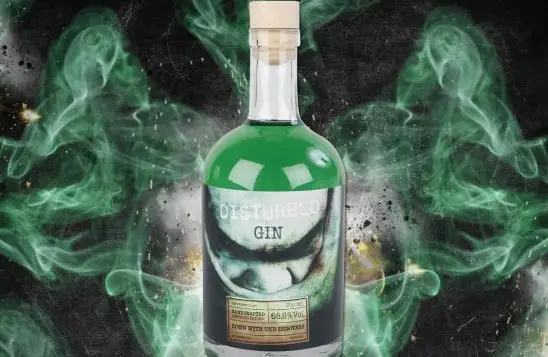 DISTURBED have officially announced the release of their 'Down With The Sickness' gin. Currently only available in Germany, the run is limited to 666 bottles and can be ordered at this location.
Description of the drink is as follows: "Strictly limited and super strong, that's the Down With The Sickness Gin from DISTURBED. It is characterized by a fresh note of juniper, lemon balm and cardamom, combined with angelkika root and gentian, as well as subtle fruity touches of lemon and bitter orange. Like DISTURBED itself, the gin is characterized by its strength of 66.6%. We only recommend it for die-hard fans."
In a recent interview with "Loudwire Nights," DISTURBED frontman David Draiman said that the band's new music will be "blisteringly angry" and "brutal."
"I am very, very, very much looking forward to writing some more new DISTURBED material at some point, and I can pretty much guarantee it's going to be blisteringly angry," David said. "I'm dying to sink my teeth into new, original, angry, ferocious, brutal material."
DISTURBED's latest album, Evolution, was released in October, 2018, via Reprise Records. The album debuted at number four on the Billboard 200, making it DISTURBED's sixth straight top 5 album. It is the band's first album since The Sickness not to reach number one, thus ending the band's streak of number one albums at five.