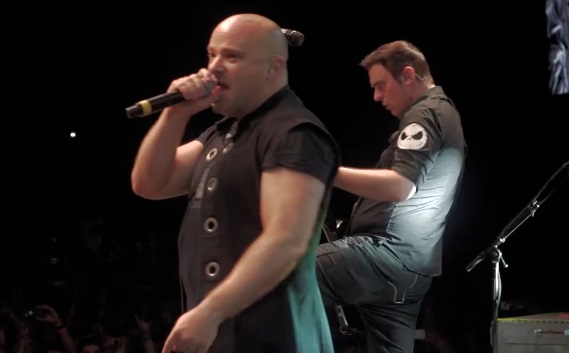 DISTURBED frontman David Draiman joined BREAKING BENJAMIN on stage in Dallas to perform PANTERA's classic "Walk". Watch the video footage of the performance below.
In a 2005 interview with Columbus, Ohio radio station The Blitz WBZX 99.7 FM  David shared his memories about late PANTERA guitarist "Dimebag" Darrell Abbott: "They're probably going to sound very similar to all the ones that anybody has told you up until this point.
"Dime was the kind of guy who just wanted to make every single moment that you spent with him the best moment of your life. He was always worried about other people having a good time, even more than he was about his own good time, and he certainly focused plenty on that. [Laughs] He was just a sweetheart of a guy. He took the shirt off his back for you if you so asked.
"I can't even count the number of times that we've been liquored together, that we've partied together, that we've closed out strip clubs together, that we've toured together.
"I think the last great memory that I have was during the summertime when we went out for a small run and we brought the DAMAGEPLAN boys along with us for a few of the shows. It was me and Dime at some strip club out east — I'm not sure which one it was; things kind of turn into a blur when you're touring with those boys. Basically, he saw to it that I was brought up on stage and tied to a chair and made certain that every single stripper in the entire club was on me at the same time. And it was something. And he's sitting there laughing and joking, completely out of his mind, drunk as well, pulling his pants down — just being a goof, like the way that he is. But probably one of the proudest moments that I can remember is just the many times that we've actually played together.
"There's been numerous times that we, as DISTURBED, have had Vinnie and Dime both come out and play 'Walk' with us by PANTERA. And just to be singing that song and to have him next to me for a little while — it's just something that I'll always hold onto and cherish. He just made you feel like a rock star — that was kind of his thing. And the effect that he had on everyone around him can be gauged by the kind of response and attendance that people saw at the actual funeral services. It was probably unlike any other funeral that we'll ever witness in our lifetime. I don't think I've ever heard a funeral crowd burst into laughter more times than they did that day with just people recounting the stories of how he had affected their lives and what kind of an influence he was.
"Dime and PANTERA, in general, were just so instrumental in creating an entire new breed of metal. They refer to PANTERA as a seminal band. And it's so true, because they laid seed to us, GODSMACK and KORN — anybody that used rhythmic sorts of riffs as opposed to the standard hair-band kind of stuff that really dominated prior to 'Vulgar Display of Power' coming out and debuting the way that it did. They really paved the way for a whole new generation of aggressive music, and I don't think people give them enough credit for that. He certainly was a tremendous part of that."