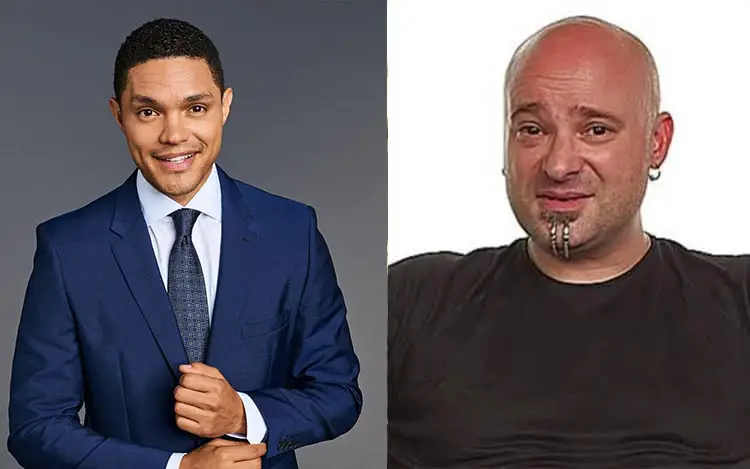 DISTURBED frontman David Draiman has blasted Trevor Noah as "a hypocritical, self-righteous, pathetic man" after "The Daily Show" host implied podcaster Joe Rogan is guilty of racism.
This past Monday, during a "The Daily Show" episode, Noah called out Rogan, saying: "First of all, he said he would never say that black people are apes, but he said that. That's literally what he said. It's not just racist. That's O.G. racism. That's the original, old-school racism. That's on the Mount Rushmore of racism.
"'Black people are apes' is right next to burning crosses and every Bugs Bunny cartoon from the 1940s." Noah went on to say that he found Rogan's assertion that he wasn't being "racist" but just "being entertaining" particularly "illuminating."
"No, Joe, I think you were using racism to be entertaining," Noah continued. Even if Rogan wasn't specifically trying to "offend" black people, Noah said, "you knew that offending black people would get a laugh out of those white friends that you were with."
Now, Draiman shared a video of Noah's "The Daily Show" segment and included screenshots of a series of Trevor's that resurfaced when he was selected to succeed Jon Stewart as the host of Comedy Central's "The Daily Show." They included Jewish jokes, such as, "Almost bumped a Jewish kid crossing the road. He didn't look b4 crossing but I still would have felt so bad in my German car." Noah also made jokes about domestic violence, white women and suggesting women should "fear" his penis because "the more you fear something, the bigger it appears."
David wrote: "You're a hypocritical, self righteous, pathetic man @Trevornoah
"The rules should be the same for everyone Be it @joerogan OR @Trevornoah.
"What I can't stomach is holier than thou hypocrisy, claiming your sh*t doesn't stink, but the other guy's does. I don't want either cancelled.
"Make all the jokes you want, but when @Trevornoah thinks his rhetoric is fine, but @joerogan 's isn't, or he doubts the sincerity of Joe's apology when Trevor never even offered one, I have no problem calling him (Trevor) out for the self righteous hypocrite he is."