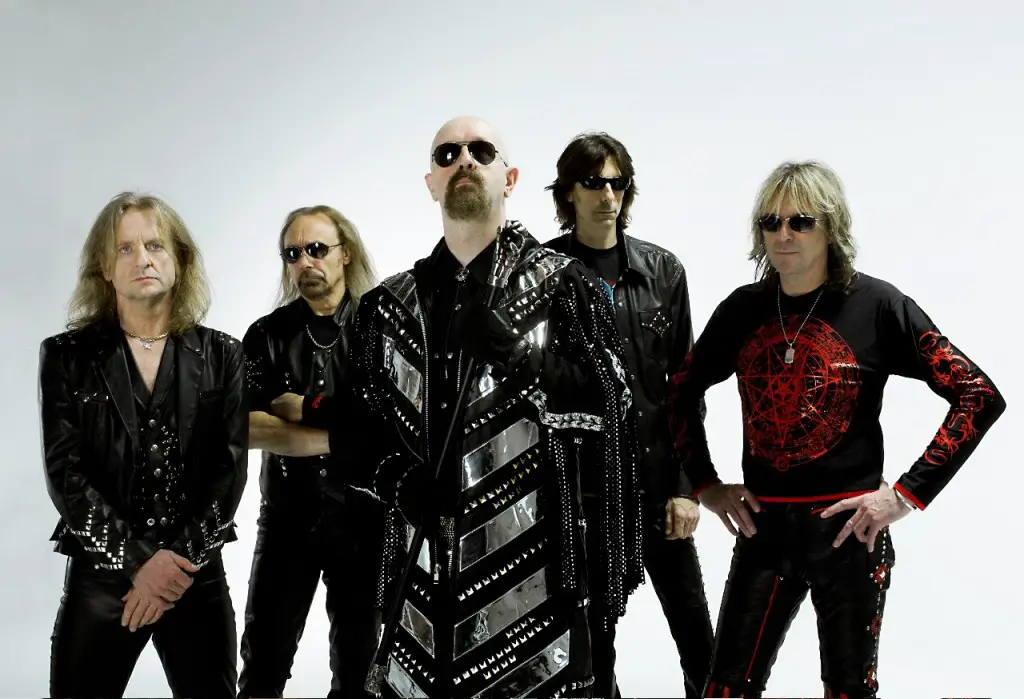 "Dream Deceivers", the 1992 documentary about the infamous trial in which JUDAS PRIEST was accused of inserting subliminal messages into its music, was finally released on DVD and digital on August 5.
Film synopsis: "Just before Christmas, 1985, 19-year-old James Vance watched his best friend Ray Belknap shoot himself to death with a .12 gauge shotgun in a churchyard outside Reno, Nevada. Then Vance pulled the trigger on himself. He survived but was severely disfigured. Vance later claimed his actions had been influenced by the heavy metal music of JUDAS PRIEST, prompting his family to sue the band. The drama of the ensuing trial provides the framework for David Van Taylor's disturbing look at teenagers today."
According to Center For Media & Social Impact, the reason it took so long for the documentary to be officially released on home video is "the fair use revolution." Specifically, because the music and lyrics of JUDAS PRIEST was heavily featured in "Dream Deceivers", the documentary maker David Van Taylor was unable to get clearance from Sony to release the film on DVD. However, since the creation of the Documentary Filmmakers Statement of Best Practices in Fair Use in 2005, there has been an increased acceptance of the law's limited right to employ copyrighted material without licensing, when repurposing and using appropriate amounts.
"So much of what I cleared back in 1992 was absurd to clear," Van Taylor told Center For Media & Social Impact, "and now the film seems like such a slam dunk for fair use. We have no qualms."
According to the Reno Gazette-Journal, at the heart of the lawsuit was the claim that JUDAS PRIEST's "Stained Class" album's songs contained messages that, when played backwards, said "try suicide" and "let's be dead." Lawyers said it was the song "Better By You, Better Than Me" with its subliminal command of "do it, do it, do it" that pushed the two men over the line to end their troubled lives.
Vance told attorneys that he and Belknap were listening to JUDAS PRIEST when "all of a sudden we got a suicide message, and we got tired of life." In a letter to Belknap's mother, he later wrote, "I believe that alcohol and heavy-metal music such as JUDAS PRIEST led us to be mesmerized."
"JUDAS PRIEST and CBS pander this stuff to alienated teenagers," the Belknaps' attorney argued. "The members of the chess club, the math and science majors don't listen to this stuff. It's the dropouts, the drug and alcohol abusers. So our argument is you have a duty to be more cautious when you're dealing with a population susceptible to this stuff."
JUDAS PRIEST's manager, Bill Curbishley, stated before the trial began: "I don't know what subliminals are, but I do know there's nothing like that in this music. If we were going to do that, I'd be saying, 'Buy seven copies,' not telling a couple of screwed-up kids to kill themselves."
"It's a fact that if you play speech backwards, some of it will seem to make sense," JUDAS PRIEST guitarist Glenn Tipton said. "So I asked permission to go into a studio and find some perfectly innocent phonetic flukes. The lawyers didn't want to do it, but I insisted. We bought a copy of the 'Stained Class' album in a local record shop, went into the studio, recorded it to tape, turned it over and played it backwards. Right away we found, 'Hey ma, my chair's broken' and 'Give me a peppermint' and 'Help me keep a job.'"
Speaking about the case in a 2007 interview, JUDAS PRIEST singer Rob Halford said: "The American reaction was phenomenal — the support we had from the fans every day, to and from the courthouse. But it was very difficult to sit there and listen to the attorney basically saying: 'These guys over there killed these kids.' [We thought] 'What are you talking about?' It was surreal, but we knew we had to stand up for what we believed in: We had absolutely no association with their death. We kept them alive for a good period of their lives. We were a lifeline (from) the shit life that they were living."
Halford went a step further in a 2008 interview with RockBand.com, telling the site: "We flatly refute any accusation or allegations that music of any thought or style can have the power to take someone's life. At the end of the day, that's the individual's choice, and if you're messed up on booze or drugs — or you have some kind of mental instability — that's got to be addressed. But music in and of itself can't kill you and never will."
"It tore us up emotionally hearing someone say to the judge and the cameras that this is a band that creates music that kills young people," Halford later admitted. "We accept that some people don't like heavy metal, but we can't let them convince us that it's negative and destructive. Heavy metal is a friend that gives people great pleasure and enjoyment and helps them through hard times."
Other lawsuits at that time sought damages because of violent lyrics in music, but the JUDAS PRIEST case was one of the first to claim that subliminal messages hidden behind those lyrics caused the deaths of young men.
"It was the first time there had been a judicial determination of whether subliminal messages were or were not protected speech under the First Amendment," former Washoe District Judge Jerry Whitehead told the Reno Gazette-Journal in 2005.
Whitehead, who heard the case after the lawyers agreed not to have the civil suit decided by a jury, ruled it was not.
"Because speech is basically the expression of thoughts and ideas that a person can reflect upon and accept or reject, but a subliminal message is a surreptitious attempt to influence the subconscious and, therefore, is not something you could reflect upon and accept or reject," he said.
His final decision: There was no conclusive evidence of subliminal messages, Whitehead dismissed the case against JUDAS PRIEST and its record company, CBS, in 1990.
Source: Blabbermouth