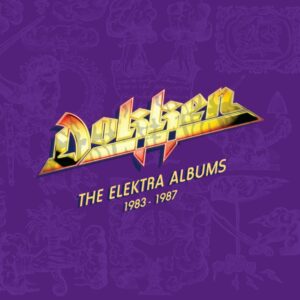 2023 starts with this very cool box set – CD or LP – celebrating Dokken's Elektra albums. As my dear child of the night might remember we've reviewed other boxes sets along 2021 and 2022. If memory serves me right they were – not in any order – Therion, Skid Row, Tankard, Soulfly, and Overkill. This format of boxes sets sounds pretty interesting to the fan, I guess. Besides being collectable, it's a chance to get all the music – well, not all – of the band in only one format. They also have the cool boxes to keep the albums. Four albums are part of this box set: 1981's "Break the Chains," 1984's "Tooth and Nail," 1985's "Under Lock and Key," and 1987's "Back for the Attack."
Ok, now is the time for Dokken, a very celebrated and platinumed Hair Metal band from the 1980s. To be very frank, I have alwyas thought of Dokken as a Hair Metal band only for the looks because their music in many senses I guess doesn't belong to it. Dokken have alwyas been harder than their peers and, of course, with much better musicians. George Lynch is only one example. Of course, this is debatable, but I have never hidden the fact that I love Hair Metal bands. Ironically, 1987's "Back for the Attack" is the only album that I really got in touch. I got it lended from a friend and recorded it on cassete I guess in its release in 1987. Dokken were a band that were everywhere in the 1980s. Magazines, TV shows, radio, and all. So why only "Back for the Attack"? It's complicated. There are bands that even liking them a lot I didn't have the energy to buy their albums or to look for them to record on cassete – that depended on a friend buying them. Dokken had that way.
Needless to say that "Back for the Attack" was a hit. Dokken were such a fuzz back then. Even more with the cool "Dream Warriors" being part of the soundtrack of the so, so cool movie A Nightmare on Elm Street 3: Dream Warriors. As it was usual back then I didn't record all the songs. I left "Prisoner," "Mr. Scary," "So Many Tears" out of the cassete for no reason. Maybe I had other full album recorded and I used "Back for the Attack" to fill it up. Things that millenium kinds will never understand. But the tracks I recorded were kept forever in my memory. It's an album that I still listen. In fact, Lynch's guitar is still pounding in my mind. So hard to pick my favorite from the ones I recorded but I guess they would album opener "Kiss of Death" and its frentic rhythm and the melodic "Dream Warriors."
Even though those bands were slammed and bashed to death in the 1990s they finally reached Hair Metal's heaven. They passed the test of time with flying colors.
Dokken "The Elekra Albums" will be released on January 23rd via BMG Records.
Track Listing:
Back for the Attack
Kiss of Death
Prisoner
Night by Night
Standing in the Shadows
Heaven Sent
Mr. Scary
So Many Tears
Burning Like a Flame
Lost Behind the Wall
Stop Fighting Love
Cry of the Gipsy
Sleepless Night
Dream Warriors
Watch "Dream Warriors" official music video here: